This article is more than 1 year old
Nokia Booklet 3G
Mobile maker's netbook debut
Review Given its unparalleled success in the mobile phone market, it was only a matter of time before Nokia tried its hand at creating a laptop. The Finnish manufacturer isn't keen on its Booklet 3G being called a netbook, though. Instead, 'mini laptop' is the preferred term. But with features such as 10.1in screen and Intel Atom processor, it sure looks like a netbook to us.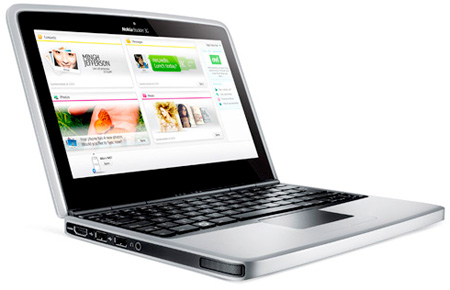 Nokia's Booklet 3G: it's a mini laptop, got it?
A common complaint with netbooks (not least from Reg readers) is that prices have crept up and up ever since Asus started the whole thing off back in 2007 with its £220 Eee PC 701. Given the Booklet 3G's price tag is nearly three times this figure, we're fairly confident a large proportion of you will instantly dismiss it. Before we deliver our judgment, though, we'll take a closer look at exactly what that £649 gets you.
At 264 x 185 x 19.9mm and weighing 1.25kg, it's on a par with other 10in netbooks in terms of portability. And were it not for the Nokia logo on the glossy lid (it's available in black, ice and azure flavours), you'd be forgiven for thinking this netbook had crept out of Apple's labs. Indeed, with its aluminium chassis and minimalistic design, it has a certain mini-MacBook feel to it.
The display is attached to the main body via a pair of well-made hinges, although our review sample did have a slight creak to it when the lid was opened. You won't find any creaking elsewhere. Make no mistake: this is one sturdily designed netbook that puts the current crop of plastic-clad models to shame.
Flip the Booklet 3G on its belly and the less-is-more approach continues. With no screws in sight, the aluminium base is marred only by four rubber footrests and a pair of catches for the battery. Despite being a 16-cell, 3840mAh monster, the battery doesn't jut out from the rear. Instead, it fits snugly into the confines of the chassis.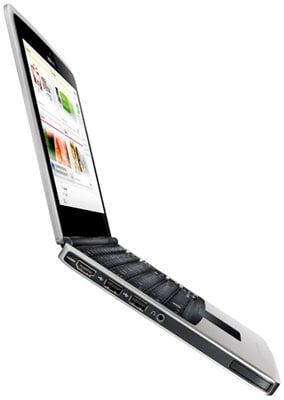 Dimensions are in line with rival 10in netbooks
On the left of the netbook sits an HDMI output along with a pair of USB ports and a headphone socket, while a further USB port is located on the right side. The right is also home to the power connector and a flap that hides both the SD and SIM card slots. A small, recessed power button is here too, which, when feeling for it along the edge, can be difficult to locate and fiddly to operate.