This article is more than 1 year old
Nokia Booklet 3G
Mobile maker's netbook debut
There's no LAN port, but in terms of wireless connectivity the Booklet 3G isn't left wanting – 802.11n WiFi, Bluetooth and 3G (including HSDPA) are all supported. Nokia supplied our review sample with a Vodafone Sim, which provided decent throughput when out and about. Of course, the speeds you achieve will depend on your network, signal strength and contention. The 3G module is also data only, so voice calls are a no-no.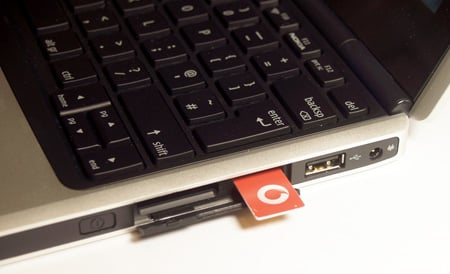 Mobile broadband at the ready
GPS is also bundled into the package, and Nokia pre-installs its Ovi Maps application to make use of it. It also features A-GPS, so when you've an active mobile broadband connection it will make a decent fist of pin-pointing your location without the need for a clear view of the sky.
The 10.1in display has a higher-than-average resolution of 1280 x 720. Colours are given a boost thanks to the glossy coating, but we were a little disappointed to notice a slight mottled effect to the screen – the kind we'd usually expect to see on touch-sensitive displays. It's most noticeable on images with white backgrounds, with sharpness taking a hit as a result. Sat between the display's hinges is a small black bar with a series of blue LEDs that indicate the status of features such as WiFi and 3G.
The keen-eyed amongst you will notice the lack of air vents on the Booklet 3G. The reason for this is that there isn't a single fan housed within the chassis, making the netbook whisper quiet – the only noise you'll hear is that of the hard drive ticking away. And thanks to the aluminium chassis acting like a giant heat sink, it doesn't get noticeably hot even when under duress.
Nokia's gone for a chiclet-style keyboard and, in general, has done a very good job with the design. As with all netbooks, compromises have been made in order to fit everything in, but disruptions are kept to a minimum. The small arrow keys can be a bit fiddly as they all on a single row and the Enter key has been slimmed down, but otherwise it's extremely usable. As far as key placement goes, the only oddity is the Function key, which sits where most people would expect to find the Control key.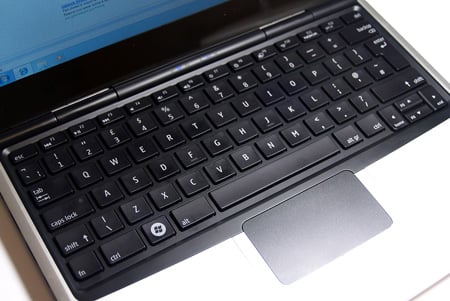 Watch out for that sliver of an Enter key
The keyboard also scores highly in terms of comfort. Each key has a decent amount of travel and they're not crammed in too close together. There's also very little flexing to the keyboard. Yet, when using the bottom row of keys you may find your fingers hit the ridge that separates the keyboard from the wrist rest – Nokia would have done well to smooth this out. The trackpad is responsive and supports multi-touch gestures. It also benefits from a pair of large buttons beneath it, but they could do with just a little more travel to them.