This article is more than 1 year old
Israeli ducted-fan robo sky-jeep in hover trials
Not a flying car, but perhaps a flying mule
The Israeli designers of a radical flying jeep style vertical-takeoff-and-landing "fancraft" have announced long-belated flight tests. However, the trials of the pilotless "AirMule" have so far seen the aircraft tethered and restricted to just two feet off the ground.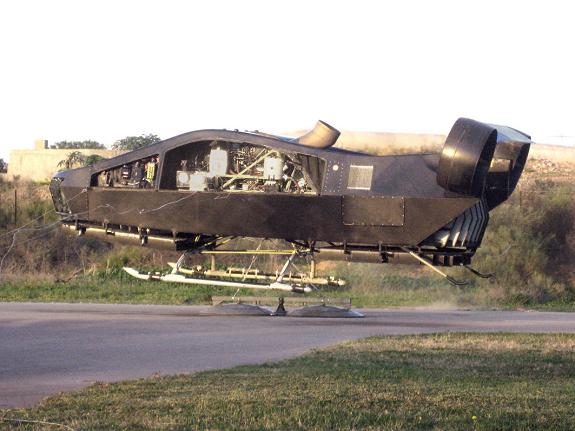 Surly bonds of Earth still in place for now.
"Fancraft" technology - so referred to by its developers to distinguish their creations from hovercraft, which can't actually fly - involves the use of a long-touted basic idea: that of ducted fans, essentially enclosed helicopter rotor discs.
It was once thought that ducted-fan aircraft would soon become widespread, perhaps acting as military air-jeeps able to flit about easily in urban areas or other restricted terrain found tricky by helicopters. In the event it was found that small thrust discs mean very low efficiency, leading to aircraft with unacceptably poor fuel endurance and payload even in the context of helicopters. Secondly, many decades ago when most of the tests took place, the ducted-fan machines were almost impossible to control.
Engineers at Urban Aeronautics of Israel believe they've cracked the second snag, however. Their fan ducts feature venetian-blind style arrays of tilting slats, allowing air flow to be redirected without any need to tilt the thrust disc as a normal rotorcraft must. Thus the designers believe that one of their fancraft will be able to hover accurately even in strong, gusty winds while remaining entirely stable and level.
Combining the proprietary slats with modern fly-by-wire automated controls, the Urban Aero boffins contend that their machines will not only be easy to fly, but actually able to fly themselves. The initial AirMule is a crewless design. (This may be a case of necessity being mother to invention, though, as Urban Aero lack major backing and unmanned aircraft are seen as cheaper and quicker to develop than manned ones.)
A turbine-powered, unmanned AirMule prototype was assembled last year, and Urban Aero execs told the Reg at last summer's Paris Airshow that flight tests could be expected "within two months".
In the event that expectation wasn't met, but the AirMule - according to an Urban Aero release no doubt erroneously dated next Friday - has now completed the "first phase of flight testing".