'Fizzy phone' tops wacky handset list
Closely followed by ivory tickling alternative
Smartphones grab most handset headlines these days, but if the latest devices from, respectively, a Chinese designer and Korean manufacturer Pantech are anything to by then there's still a market for weird and wacky phones.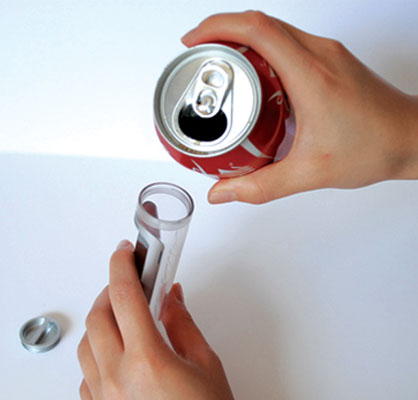 Daizi Zheng's phone runs on fizzy drinks
Designer Daizi Zheng, who claims to be working on behalf of Nokia, said she has designed a "green" mobile phone powered by fizzy drinks.
Instead of using a traditional lithium-ion battery, Zheng fitted the handset with a "bio battery" that supposedly generates electricity from the sugars found in soft drinks.
Zheng's notion is that enzymes in the battery catalyse the sugars, generating electricity in the process. Similar batteries that use enzymes to convert ethanol have already been produced, so the idea is sound.
Pour a can of your favourite fizzy tipple into the test-tube style phone and, according to Zheng, it has the potential to operate three to four times longer on a single charge than conventional lithium-powered handset.
Nokia hasn't announced any impending plan to launch a Coca Cola-themed handset - it says it knows nothing about Zheng's efforts - so while you're waiting you could make sweet music with Pantech's one-man band phone.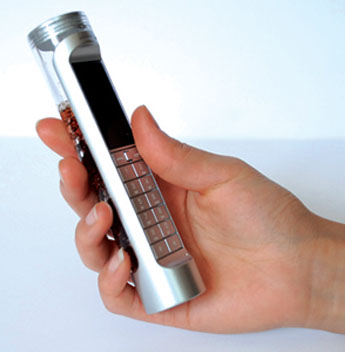 A refreshing ways to make calls?
Officially called the JamBand IM-S550S, the phone is marketed as a hi-tech handset-cum-music studio that lets you create your own ringtones.
While some iPhone applications separately let you play the drums, the piano or the guitar, Pantech's JamBand features a multi-level keyboard, guitar, percussion and even a flute.
Pantech's phone features multi-level keyboard, guitar, percussion and a flute
Sadly, it doesn't seem as though you play the flute by blowing into the handset's microphone, but the device does sport a specially designed underbelly to help make the phone easier to grip while jamming.
The IM-S550S has a 2.9in display, 3G connectivity and is available now in Korea. A UK tour date hasn't been confirmed. ®