This article is more than 1 year old
Canon Digital Ixus 200 IS
Trendy touchscreen snapper, anyone?
Review Some digital cameras cry out to be touched. They're sleek, they're stylish and it's hard resist the temptation to pick them up. Canon's range of Ixus cameras falls into this category, and the Digital Ixus 200 IS takes this step a further by being the first Ixus to offer a touchscreen interface.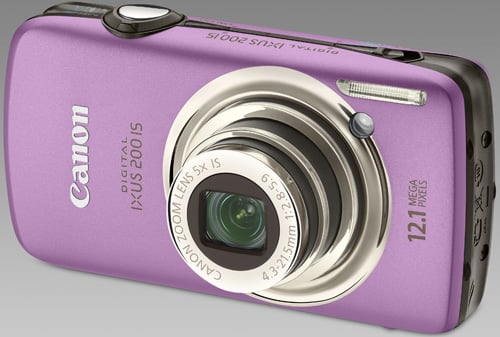 Touching gesture: Canon's Ixus 200 IS
At £329, this is no entry-level camera, but nor is it designed for the enthusiast who wants lots of manual control. But if you're hunting for a camera that looks cool and would nicely complement your iPhone, then the Ixus 200 IS has clearly been designed with you in mind.
Available in four colours – gold, silver, blue and purple – the Ixus 200 IS includes a 3in, 16:9 touchscreen. Yet Canon has opted for a TFT display composed of just 230,000 dots, which is a tad disappointing on a camera costing this much.
The image sensor is also a bit of a letdown, comprising of a 1/2.3-inch CCD chip with 12.1Mp (effective). Cramming so many pixels onto a CCD of this size has noise implications and we suspect that a 10Mp performance (or even less) would be fine for most purchasers of the Ixus 200 IS.
A quick rundown on the main features includes a 5x optical zoom in the form of an f/2.8-5.9, 4.3-21.5mm lens, equivalent to a 24-120mm lens on a 35mm camera, which means the Ixus 200 IS is ideally suited for wide angle shooting. Other features include an ISO range of 80-1600 – with an optional, lower resolution, ISO 3200 mode – and shutter speed range of 15-1/3000 sec.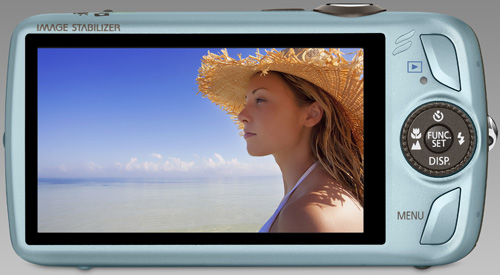 A big touchscreen, but the resolution could be better
You can also shoot HD video in the .MOV file format at 1280 x 720 resolution and 30fps, as well as in VGA and QVGA modes, also at 30fps. The Ixus 200 IS uses SD/SDHC cards, plus several flavours of MMC cards, and is powered by a lithium-ion battery with a CIPA rating of 240 shots. A slim paper start-up guide is provided, but the full instruction manual, along with the Canon Utilities software is on a CD-Rom.