Canon Digital Ixus 200 IS
Trendy touchscreen snapper, anyone?
The Ixus 200 IS measures 99.9 x 53.4 x 22.9mm and weighs around 180g with battery and card. Its brushed metal body is nicely contoured and the camera looks and feels classy. A shame then, that Canon hides the USB and mini HDMI ports behind flimsy plastic lugs, and the battery/card flap doesn't inspire much confidence when it comes to longevity either.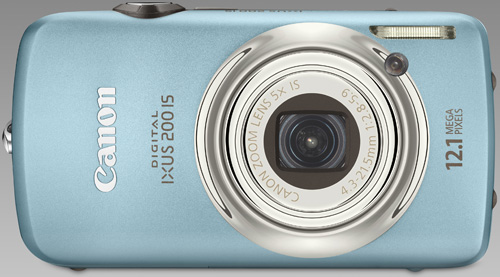 Looks the part, but interfacing protection lacks finesse
There are just three operating modes – Auto, Scene and Movie, which are selected by a small slider on the top. The power switch is a small triangular button but, thankfully, the shutter button is a conventional size and shape. In addition to the usual multi-control rocker, there's a control dial, which can be used for scrolling through menus or images.
Switch on is fast – around one second. And if you select the Auto mode, Canon's Smart Auto system will do everything for you, using scene detection and face detection technologies. If you want to be more adventurous, you can opt for one of 20 shooting modes, which include program, portrait, panorama and beach.
Being a touch-controlled camera, this interface needs closer examination. If you set the Ixus 200 IS in Auto mode, you can use the touch screen to switch the flash on or off, or operate the touch focus system. The latter works like this: if you want to focus on say, a face, simply touch the face on the LCD screen and four small white pointers lock onto it. If the face moves across the frame, the AF system continuously tracks it – this works very well.
In Program mode, the touch technology also allows you to adjust exposure compensation using a numerical scale running along the bottom of the screen. You can change the compensation level by either tapping a figure – the scale runs from -2 to +2 EV in 1/3 step increments – or running your finger along the scale.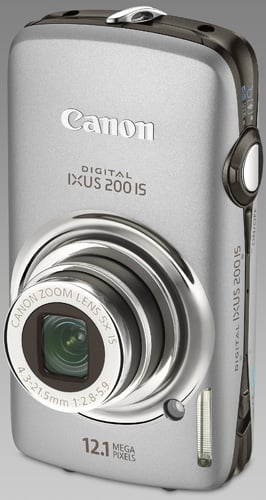 In Auto mode, only a handful of menu functions are accessible from the touschscreen
It's a neat system. Touch control can also be used for selecting shooting modes, and you do this by scrolling through three screens, each showing six icons. Tap an icon once to select a mode and then a second time to confirm your choice, and it's done.