This article is more than 1 year old
Seagate Barracuda XT 2TB Sata 3.0 HDD
The first hard drive with the new bus standard
It's a four-platter model with eight heads, a spin speed of 7200rpm and 64MB cache, just like the WD Caviar Black. The acoustic figures of 28dBA (idle) and 32dBA (typical) are higher than the WD and effectively identical to the Hitachi Ultrastar's numbers, which means it's a touch too noisy for our taste.
The Barracuda XT range consists solely of this 2TB model so there are no variations that use fewer platters to create a lower capacity drive, so if you want a Barracuda XT you'll pay a princely £225-245 for the full 2TB.
We tested the Barracuda XT using a native Sata 2.0 port on the P55 chipset and found that the performance was less impressive than we might have hoped. Although the Seagate shares a number of technical features with the WD Caviar Black, it was unable to match it in CrystalDiskMark or, more importantly, in Iometer.
HDTach Readouts
Sata 2.0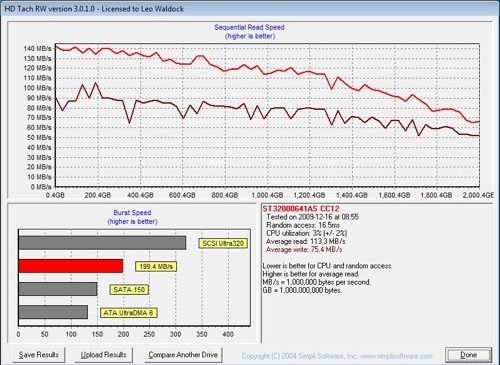 Sata 3.0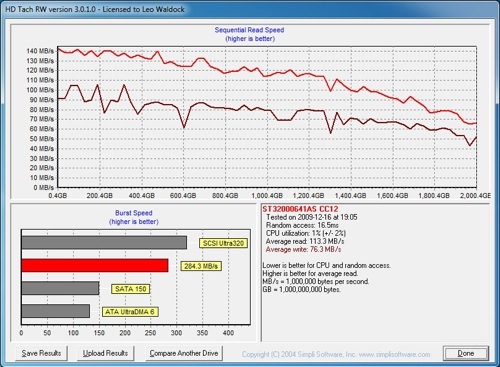 Not to worry, the Sata 2.0 tests were merely the hors d'œuvres before the Sata 3.0 meat and veg. We moved the Sata cable to the Marvell controller and found it made a noticeable difference in just one regard. In HD Tach 3, the burst speed figure jumped from 199.4MB/s to 284.3MB/s, which answered our concerns that the new interface was working correctly.
The problem, in case you haven't guessed, is that a hard drive doesn't saturate the bandwidth of Sata 2.0 so Sata 3.0 doesn't have much scope to show its inherent advantage.