Leccy Tech Audi has unveiled yet another version of its e-tron leccy über coupé at the Detroit Motor Show. But, unlike previous designs, has slapped a production date onto its bonnet.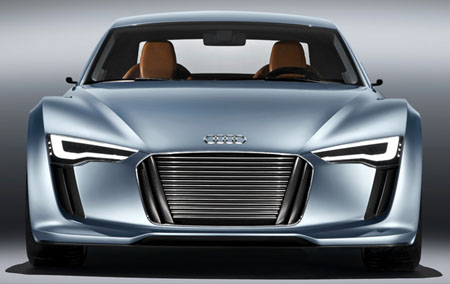 Audi's latest e-tron design will go into production in 2012
Set to hit production lines in 2012, the new e-tron functions much like designs previously demoed in Frankfurt and Los Angeles.
For example, the latest e-tron retains the two electric motors delivering a combined 201bhp (150kW) and the 45kWh li-ion battery pack that Audi claimed will be good for a "realistic" 150 mile range.

Drive is sent to all wheels, but not equally
Drive will be sent to all four wheels, with a 60:40 split in favour of the rear. The car's top speed will be electronically limited to 125mph, Audi added.
Apart from the obvious styling changes made to e-tron's front-end between the various models, the latest car is 250kg (550lbs) lighter than before and just over 8in shorter than its petrol-powered R8 brother.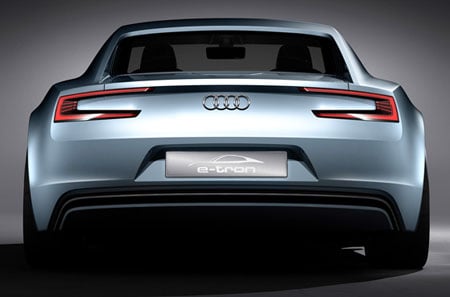 Hit 62mph in 5.9 seconds
The improved packaging and diet will see the e-tron able to hit 62mph in 5.9 seconds and cover a 35 - 75mph sprint in just over five seconds.
In related news, Audi confirmed that e-tron will become a sub-brand eventually filled with a range of alternative models.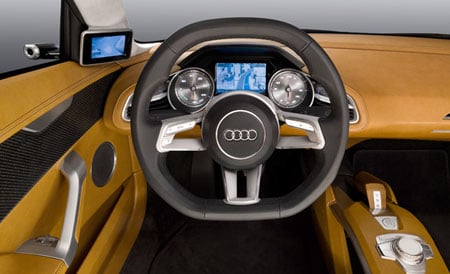 More e-tron models are planned
Audi is keeping mum about all future e-tron development for now and about the potential price of its 2012 e-tron. ®