This article is more than 1 year old
UK.gov moves to block Hamas kids site
Incites hatred, says MP
The Home Office is considering blocking a childrens' website run by the Palestinian group Hamas following suggestions it incites hatred of Jews.
Liverpool MP Louise Ellman, chair of the Labour Jewish Movement, has called on ministers to block access to al-Fateh.net, a webzine launched by Hamas in 2002. Alongside baking recipes and exam advice, the fortnightly publication features tributes to suicide attackers and encourages "love of jihad".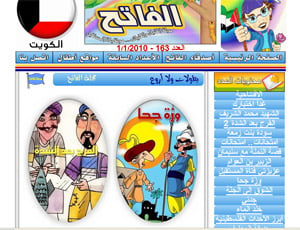 Al-Fateh.net
Ellman told The Register: "It's nasty stuff. It incites hatred of Israel and Jews - the government should remove it."
An extract from April 2008, translated by IMPACT-SE, a Jewish education lobby group that has campaigned against al-Fateh.net across Europe, reads: "Jerusalem will remain as a trust in our hands and the hands of all Muslims, and they are to unite and gather for its liberation and the liberation of the land of Palestine from the impurity of the Zionists, the descendents of apes and pigs."
In response to Ellman's parliamentary question on al-Fateh.net, policing minister David Hanson said: "We are currently assessing whether there is sufficient evidence to include the al-Fateh website in the list of material provided on a voluntary basis to filtering companies for inclusion in their parental control software."
Inclusion on the list would mean access to al-Fateh.net would be blocked from many school and college networks - the site's target audience - who filter access to the wider internet through third party software.
There remains nothing the government can do to prevent access where filtering software is not installed. Suggestions by former Home Secretary Jacqui Smith that an ISP-level filtering system similar to the Internet Watch Foundation child pornography blacklist might be created for extremist material appear to have been abandoned.
Referencing the government's main legal weapon against online extremism, Hanson told Ellman: "It would be for the police to decide whether a website reaches the threshold for a notice to be issued under section 3 of the Terrorism Act 2006."
The Terrorism Act grants police powers to force hosting providers to take down extremist material. But according to a traceroute, al-Fateh.net is hosted in Russia, where a section 3 notice would have no power or effect.
Indeed, the powers have had no effect at all since coming into effect. Late last year the security minister Lord West said no notices had been issued because police had persuaded UK hosting firms to take material down voluntarily. He admitted that no records were kept of what was censored.
Tim Stevens, an expert on internet radicalisation at King's College London, said Ellman's call showed how powerless the government is online.
"Unpleasant as this site may be, it is not up to single-interest groups to determine what is and is not illegal," he said.
"Ellman's demand that government just 'remove' this material betrays a lack of understanding of the environment.
"How exactly would the government remove a Palestinian website hosted in Russia so that no-one could access it from the UK? Has Ellman never heard of the internet?"
He said the government should reject the MP's call to blacklist al-Fateh.net in filtering software. ®