This article is more than 1 year old
Microsoft tells UK schools: buy our software, save money
Hopes Tories (and Google) won't crash the party
Bett Microsoft's UK education chief insisted yesterday that schools would continue to lap up its software despite tightening budgets and a likely change of government - and education policy - in the next few months.
In an interview with The Register at the Bett (British Educational Training and Technology) event in London, the company's UK director of education, Steve Beswick, said the schools' sector was still keenly sniffing around its products and added that Windows 7 and the upcoming Office 2010 suite had helped buoy demand.
"Competition is good, we have to compete with lots of open source software and that's fine," he said.
"Lots of our customers look at the value our software is bringing - it's not just about the cost.
"Yes, there is a charge, albeit we are discounting our software for education in a big way, by about 80 per cent in fact. But clearly schools need to look at the over all costs, and in our experience many of them prefer to work in a Windows environment."
His defensive comments came in response to recent lukewarm government assurances about its open source and open standards strategy, that many OSS vendors hoped would help jar the public sector competition door open.
"It's not just about procurement," said Beswick, who was keen to justify why Microsoft deserved to be ahead of the open source pack.
El Reg asked Beswick how important Microsoft's relationship was with the government in helping the company stay at the top of the pile with the use of its products in schools across the nation.
"We work with the government and look at their policy - such as parents' access to school systems. How can we propagate best practice and what impact that makes on the learning of the child," he explained.
Earlier this week Prime Minister Gordon Brown announced a national rollout of the Home Access scheme - to get laptops and broadband into around 270,000 deprived homes. Microsoft has been a key player in that particular £300m project.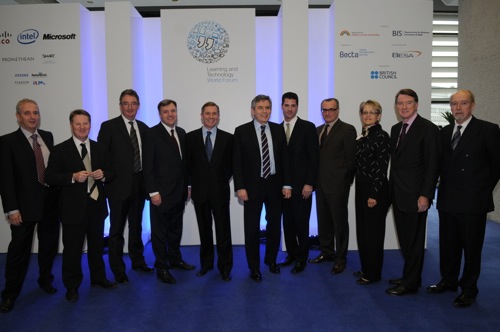 Brown and his Home Access buddies (including Microsoft, Cisco and Intel) in a group hug earlier this week
However, Beswick was unable to confirm how much money it had pumped into the schools' deal.
"We don't divulge monetary value of investments we've made. Clearly it is a very important area for us to make sure that the access to technology is pervasive across all parts of society."
All of which led us to the obvious question: What will happen to Microsoft's relationship with the government if - as looks likely - it changes hands in May?
"The economic climate is such that, regardless of who is in power, schools will have to look at ways of saving money not just in IT but across the whole spectrum," said Beswick.
When pushed on whether Microsoft was in close contact with David Cameron and the Conservative Party, in the same way as Google currently enjoys, Beswick was much more mealy-mouthed, however.
"We continue to talk to lots of people across the board," he said.
But when asked if he could be specific about who those people were, and if Microsoft was involved directly in dialogue with the Tories about their future government plans, Beswick was unable to provide an answer.
All of which could make for an interesting year ahead for Microsoft and its push to get its tech into more schools, especially if Labour does indeed lose the upcoming General Election. ®