Wacky gadget manufacturer Nuvo has created a 'wearable stereo' for expectant mums designed to help boost babies' brains.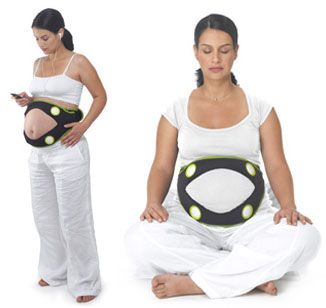 Nuvo's Ritmo sends soothing sounds to unborn kids
The Ritmo belt fixes around the mother's pregnant belly and sends sounds to the foetus from four integrated speakers.
While the idea may sound daft - along the lines of the Natus womb workout - scientists have long studied the so-called Mozart Effect in which in utero exposure to classical music may have a beneficial effect on mental development.
Ritmo connects into "most" audio devices, Nuvo said, so that virtually any sound can be relayed to the baby, be that a Mozart concerto, dad reading a story or "the family dog barking".
Nuvo's "patented Safe & Sound Technology" regulates audio volume so the baby doesn't struggle to hear one track and then become deafened by the next. The belt also features a wired controller to let mum can change tracks.
Nuvo plans to release Ritmo in the UK soon. It currently costs $150 (£90) in North America. ®
Sponsored: How to simplify data protection on Amazon Web Services