This article is more than 1 year old
Sony Ericsson Aino
The must-have PS3 accessory?
Review Sony Ericsson's latest marketing wheeze is to release a slew of new handsets with seemingly meaningless names. Satio, Yari, Naite and the handset currently under scrutiny, Aino, are models the company has lined up to compete with Apple and Android. The Aino is meant to be a media fan's handset first and foremost. It also has a fairly strong set of general specifications, including an 8Mp camera, Wi-Fi and GPS.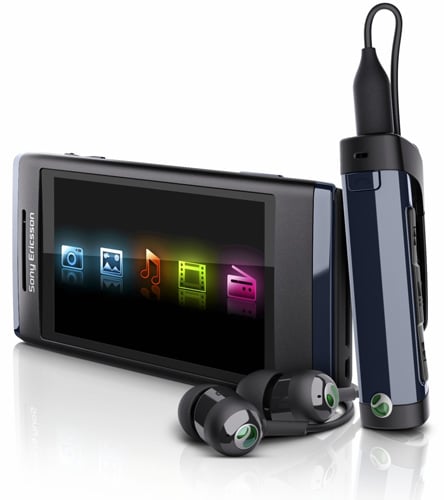 PS3 Go? Sony Ericsson's Aino
If you have a PlayStation 3, you can control it from a distance with Aino's Remote Play feature. The phone will pick up video and audio streamed from the PS3, and you can use the console's Play TV DVR add-on to watch, pause and record live TV if you live in Italy, France, Spain, Germany or the UK – more on this later.
Overall, it sounds like quite a lot of innovation is going on with the Aino, but in reality it doesn't hang together that well. Things can be clunky and Sony Ericsson may well be trying to do too much fancy stuff without getting the basics right. This is a chunky slider phone. It has to be to accommodate its 3in screen. But with dimensions of 104mm x 50mm x 15.5mm when closed, it isn't ideal for slim-fit pockets. It weighs 134g and extends to 150mm with the slide opened.
Underneath the smooth and responsive slide, is the relatively cramped number pad. The overall balance of the handset doesn't sit comfortably under the fingers and feels as though the phone might topple forwards when tapping out numbers. The navpad and function keys are based around Sony Ericsson's classic circular design. Visually, it's fine but, again, all buttons, bar the navpad, are a bit small. And yet there's a 4mm of empty space to left and right of this area, which could have utilised to allow for larger keys.
The screen delivers 432 x 240 pixels. Sony Ericsson knows how to do screens, and this one is sharp and bright. Movies stored on the handset were crisp, though those we streamed over Wi-Fi and 3G using the built in YouTube and iPlayer apps were jerky and less fun to watch.

Operation combines both touchscreen and keypad functions
The screen is touch sensitive, but only when the slide is closed. In this configuration you tap the unlock key and then the screen lights up in wide format. Slide the giant arrow upwards and you are presented with touch-responsive media control buttons to start the camera running, open the photo album, let you listen to music, watch videos and access the FM radio.