This article is more than 1 year old
Sony Ericsson Aino
The must-have PS3 accessory?
Navigating the user interface is relatively smooth and problem-free, but can seem less impressive the more you start to explore the features of the PS3. For instance, the BBC iPlayer works fine from the PS3, but when accessed with Remote Play on the Aino, the picture freezes, and nothing happens. Freezing issues also occurred with music and video playback and the reliability of its Wi-Fi connection would change from day-to-day.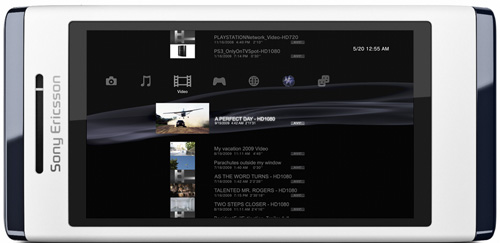 The PS3's Xross Media Bar interface handles console navigation on Remote Play
Get the idea? Thankfully, Sony Ericsson recently released an update for the Aino to improve the Wi-Fi connectivity and other performance issues. A problem for some is that you'll need a Windows PC to instal it. Despite being poised to give the Aino's Remote Play features a kicking, Sony Ericsson appears to have redeemed itself, once we explored the post-update experience.
Initially, the updated Aino refused to connect to our wireless router saying, 'Out of range, try again', Curious. This router gave us no problems at all prior to the update. On/off/on failed with both phone and router, so we made sure the Aino's battery was fully charged and then took battery out of the phone for a while before replacing it and trying again. Success.
Within the first few minutes of testing Remote Play after the update, we were finally struck by the entertainment value that the Aino promised. Non-DRM video content saved on the PS3's HD was running smoothly during tests of all supported file types. Fast-forward and rewind worked perfectly and it was generally an enjoyable experience. The exception is the BBC iPlayer, which still refused to work for us, despite it trying harder and getting closer in the process to actually playing a video or radio station; what a shame.
The Aino has the capability to purchase and download films from the Playstation Store. Unfortunately, the Aino prohibits DRM video file playback. So, although you can purchase and download video for the PS3 from your Aino, you wont be able to watch it from the phone. However, if you have a PlayTV tuner for your PS3 you can view these recordings, although they are slightly more pixellated than other video content. Also, sound/picture sync could occasionally drift by half a second, but the Aino would quickly rectify this.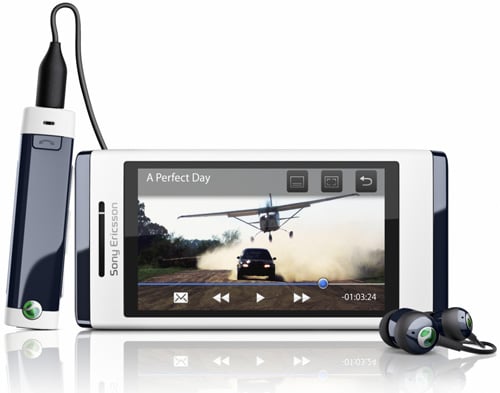 Non-DRM movies and even live TV can be viewed using Remote Play
Setting up the Play TV Tuner to record using Remote Play is easy, but does require some dexterity. Accidentally press too many buttons or the wrong one and you may have to wait for up to 20 seconds before Remote Play control is re-established. Although this side-effect of using Remote Play is frustrating, we noticed that unexplained waiting time is much less of a problem, since the update.