Review For those using their PCs as home entertainment centres, the Samsung SH-BO83L internal drive turns your computer into a versatile Blu-ray player while also acting as a fast DVD and CD writer. In one step, it upgrades your disc burning ability and adds BD-Rom support at a thoroughly reasonable price.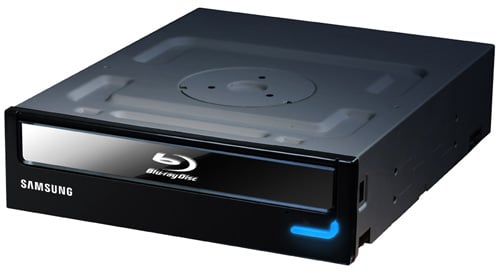 Samsung's SH-BO83L: Sata desktops need only apply
Installation is easy: the product slots into any free 5.25in drive bay in your desktop PC and can be fixed manually with the mounting screws provided. It is a Serial ATA device, so requires an appropriate Sata connector on your motherboard and a Sata plug leading from your computer's power supply. A Sata data cable is provided in the box along with the drive.
The drive fascia is designed in the popular colour of the hour – glossy black – with a mirrored finish given to the flap covering the tray. The large, L-shaped eject button also acts as the drive's data access light, flashing a bright blue probably to suggest 'Blu-ray' or possibly to remind you not to burn pirate discs or the police will be on to you.
The specifications of the unit are good, promising 8x read speed of single-layer BD-ROM discs (including BD-R and BD-RE) and 4x for dual-layer media. For DVDs, playback is rated at 16x while you should be able to write DVD+/-R discs at 16x, DVD+RW at 8x and DVD-RW at 6x. You can write CD-R media at 48x and CD-RW at 32x. Read speed for standard CD-ROMs is 48x, reduced a little to 40x for CD-R and CD-RW discs.
Boring all that might be, it simply means you can burn and play DVD and CD media at the industry's best mainstream desktop speeds as well as play Blu-ray movies and access data from BD-ROMs. This kind of product would have cost £150 just a few months ago, so the price has effectively halved.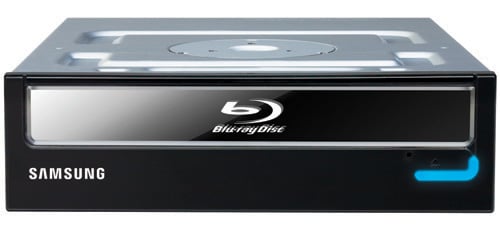 Bundled with Cyberlink software for Blu-ray playback and CD/DVD disc authoring
Also provided in the box is a copy of Cyberlink's Blu-ray Disc Suite 6.0, a generous package of disc utilities. As well as the essential PowerDVD 8 for playing Blu-ray and DVD movies, the suite includes PowerProducer – a friendly DVD creator for compiling your own camcorder videos, an 'open-session' utility for convenient CD writing (InstantBurn) and disc label designer (LabelPrint), plus backup software.
Sponsored: How to simplify data protection on Amazon Web Services