Swiss Army knives are famous for opening envelopes and wine bottles when you don't have the proper tools to hand. Now manufacturer Victorinox has updated the pocket toolkit with a range of hi-tech features.
First up is the Victorinox Remote, a traditional Swiss Army knife that's combined with "dual-channel transmitter" capable of controlling your home's automatic garage door or other devices triggered by a signal sent to their high-frequency receiver.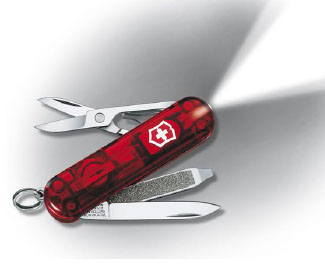 Victorinox's Remote now opens garage doors and envelopes
Swiss Army knives are roughly the size of modern USB Flash drives, so Victorinox's decision to create two further models - the Presentation Master and Secure – with integrated storage is a wise step.
Presentation Master features a removable slimline USB flash drive with secure data encryption, fingerprint authentication and up to 32GB of storage.
The mini toolkit also incorporates a laser pointer like its predecessor, the Flash Laser, but now has Bluetooth so you can switch slides during a presentation.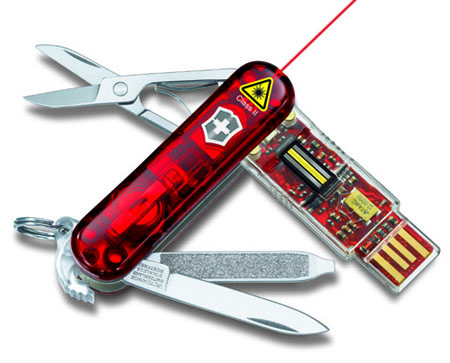 Presentation Master supports Bluetooth for slide-switching
Presentation Master will also be released in a "flight friendly" model - though you will have to made do with no blades, of course.
Victorinox's Secure essentially equips its older Flash knife with the new, secure, fingerprint-protected removable USB key.
All three Swiss Army models will still include the usual physical tools, such as mini scissors, corkscrew and nail file.
Expect the range to hit UK stores in mid-2010. Prices haven't been released. ®
Sponsored: How to simplify data protection on Amazon Web Services