LG has developed an e-journal reader that not only measures a whopping 19in but is also flexible.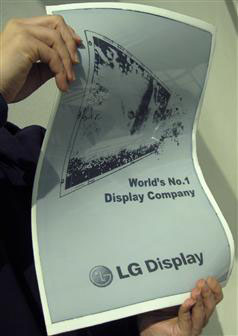 LG's 19in bendy e-reader: a world's first
The company said its device is the world's largest e-book reader to date and that it has been designed to make users feel as though they are holding a real newspaper – tabloid, presumably.
By ditching the glass screen usually found on e-book readers, such as Amazon's Kindle International Edition – reviewed here — LG said it was able to create a flexible - but not foldable — display that still maintains "excellent display characteristics".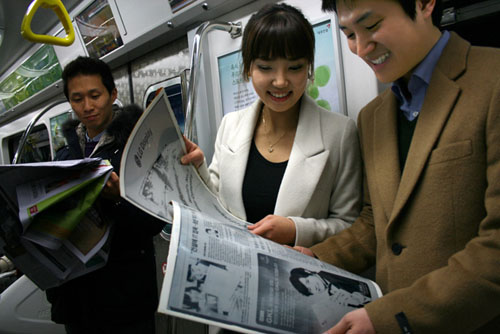 LG's screen (far right) can't be folded like a newspaper
Since the screen comes from LG's Display division, it's not a product in its own right.
The 19in e-reader's screen sounds very similar to the one found inside the recently launched Skiff Reader, which also features a screen developed by LG.
Skiff has a rigid metal body that prevents its screen from flexing, so it sounds as though LG simply removed Skiff's case and increased the screen's dimensions.
The global revenue from e-book readers is forecast to reach $9.6bn (£5.8bn) by 2018, according to market watcher DisplaySearch, up from $431m (£264m) in 2009. ®