Pelted from all sides by amendments, the Digital Economy Bill continues to plough its way through Parliament. This week, the Lords lined up to have their say, but since there are so many (300) Amendments, they'll be at it again on Monday.
Of course, out of the ten subject areas, the one labelled 'online copyright infringement' has attracted the most attention from their Lordships. Lord Mandelson made a number of modifications acknowledging these concerns this week - including some substantial changes to the processes. It's the procedure rather than the principle that is vexing the Lords.
Nobody - not even those who support the Bill - is entirely happy with the procedures. Yet there is no great grassroots outpouring of opposition. While 500,000 people may have paid 79p in one week to register a protest vote for the Christmas Number One single, fewer than 500 have signed up to the Open Rights Group's "Message to Mandelson" campaign - and some of those are supportive. We spotted one 'Go Mandy' from a major record label staffer and another urging his Lordship to bash the 'freetards'.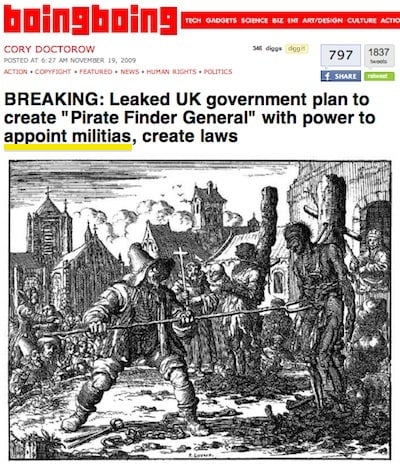 Strange and vivid persecution fantasies
Something, even a token measure, is regarded as necessary - only a lone voice or two were heard proposing the principle that artists' digital rights are dispensable. Lord Razzall (whose high living earns him the nickname 'Razzall of Dazzle') said the belief that all information must be free was 'understandable'.
Yet it's the procedures - with nameless detectives serving citizens with incomprehensible technical evidence - that has caused the most debate. Critics have pointed out that with infringement, the allegation itself becomes 'proof' - just as it does in contemporary 'climate science'. Similarly, the Secretary's powers to extend the law on the hoof, as he sees fit, have also been tempered this week.
Hereditary Conservative peer Lord Lucas emerged as the most articulate and vocal critic of the proposed infringement measures, and the best hope of the Stop Mandy crowd. A self-described libertarian with a physics degree, Lucas told the House of Lords that, "I earn most of my income outside this House from the sale of copyright material. So, I should naturally be on the side of the companies, but, perhaps instinctively, I am not."
Leading a defence of the proposals was Lord Davies, former Communicatons union leader. "Our intention [is] to try to change behaviour and effect a cultural change, so that people recognise that creative activity and its copyright support is of real value to society as a whole," he said.