PC gaming looks set to get more interactive following the launch of a machine heralded as the world's first multi-touch gaming notebook.
US-based manufacturer iBuypower said the 15in, 1366 x 768 display on the Battalion Touch CZ-10 notebook represents "the future of mobile gaming", with its multi-touch screen supposedly perfect for real-time strategy titles.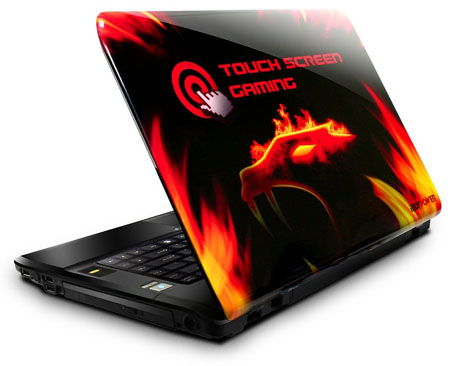 Battalion Touch CZ-10: world's first multi-touch gaming notebook
Register Hardware can certainly see the attraction of multi-touch for titles like Warcraft. The feature may even be useful for quickly building up your empire in Sim City-type games.
The PC is fitted with Intel's 2.5GHz Core 2 Duo Mobile P8700 processor, AMD ATI Radeon 4650M graphics card and 2GB of DDR 3 memory as standard. Hardcore gamers may prefer to fork out for Intel's 3GHz T9900 Core 2 Duo and 8GB of DDR 3 memory, offered as options.

All fingers and thumbs? No problem
HDD and SSD storage options are available too — the standard is a 250GB HDD, iBuypower said. The machine has a DVD combo drive, but a Blu-ray option is available.
The CZ-10's other tech treats include "3D Premium" surround sound, a three-in-one memory card reader and 802.11n Wi-Fi connectivity.
Those based in North America or Canada can order the $999 (£613) Battalion Touch CZ-10 online for delivery from 22 January. A UK launch hasn't been confirmed, but given the popularity of multi-touch these days we hope the machine will hit these shores soon. ®
Sponsored: How to simplify data protection on Amazon Web Services