This article is more than 1 year old
Peppa Pig told to belt up
Kids' TV porker in 'seatbelt safety row'
Parents whose kids have ever refused to belt up will be relieved to learn that kids TV character Peppa Pig will not in future been seen without a seatbelt, thereby ensuring that pre-school nippers are educated early in the need to travel in safety.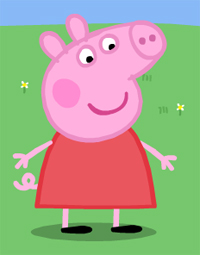 Astley Baker Davies, the company behind the Five and Nick Jr show, decided Peppa would have to strap in after "parents raised concerns over children following her example," as the BBC puts it.
The animators had "initially considered including seatbelts and child seats in the show but felt it might limit the characters' range of expressions". However, it was forced into a U-turn after one parent "complained that her daughter had refused to wear a seatbelt because Peppa did not."
Astley Baker Davies co-founder Mark Baker admitted to Broadcast magazine: "We were very naive when we started making Peppa. If we could turn the clock back, we would."
In fact, Astley Baker Davies can turn the clock back, because not only will future episodes feature the proper kit, but the company will "re-animate scenes from the first and second series to reflect the change".
Peppa Pig secured a children's Bafta in 2005 for best pre-school animation, the Beeb notes. Doubtless had the academy realised the full chilling truth that a humble animated porker was endangering the lives of millions of innocent kiddies, it would have reconsidered its decision. ®