This article is more than 1 year old
Pentax K-7
Weatherproof sharp shooter with HD video
Review Last February we looked at the Pentax K-m, a rather tasty entry-level DSLR. Yet the K-7 is a different kettle of fish from the K-m, it's a more advanced model aimed at the enthusiast/semi-pro market.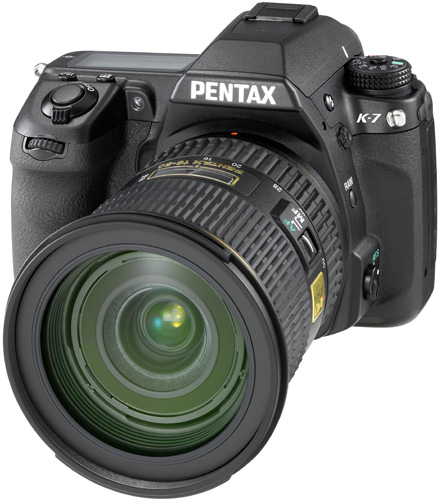 Environment friendly? Pentax's K-7
Measuring up at 96.5 x 130.5 x 72.5mm and weighing 750g with battery and card, the K-7 can be purchased as a body-only or as a kit. We tried the 18-55mm F/3.5-5.6 lens option – equivalent to 27.5-84.5mm on a 35mm camera that, curiously, Pentax's on-line shop prices at only £30 more than the body-only listing. A second kit adds a 50-200mm lens – 76.5-306mm in 35mm. The camera has a 23.4mm x 15.6mm CMOS sensor with 14.6Mp (effective) and HD movie recording in two modes: 1536 x 1024i and 1280 x 720p, both at 30fps. The former can be upscaled to 1920 x 1080i from the K-7's mini HDMI output.
The shutter speeds span 1/8000 to 30secs, plus Bulb, with the normal ISO range 100-3200, expandable to 6400. The K-7 supports JPEG and RAW (PEF and DNG formats) shooting and features an ultrasonic dust cleaning system. The camera utilises a lithium-ion rechargeable battery and SD/SDHC cards.
In terms of handling, the K-7 is very impressive. The first thing you notice is how solid and robust the camera feels. No surprise when you consider that it has a magnesium alloy body designed to be used under rugged conditions. There are 77 dust proof and weather resistant seals dotted around the body – the battery, card and connection port slots are well-protected and you can use the K-7 in -10°C conditions.
Switch on is fast and you can get snapping in under a second. Shutter lag is minimal and the mechanism is built to last through 100,000 cycles – very impressive. The K-7 has a pentaprism-based viewfinder, which offers a 100 per cent field of view. It's a joy to use, providing great coverage and lots of useful information about the camera settings.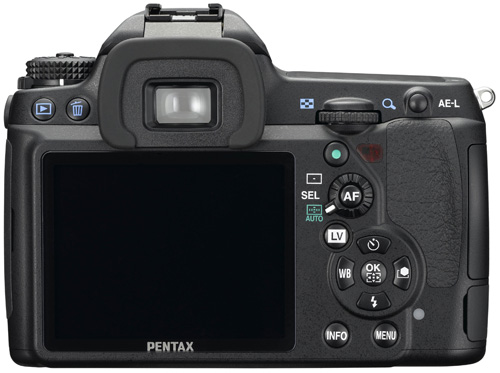 Live view monitoring, but a fixed LCD panel
This also being a video camcorder, there's Live View in the shape of a 3in LCD screen composed of 920,000 dots. It's large, bright, clear and has a wide viewing angle. The LCD also incorporates autofocus and face recognition functions. Some users, however, will be disappointed to find that the LCD screen isn't articulated.