Review LED backlighting is all the rage at the moment; it can dramatically improve the contrast ratio of LCD panels, helping them towards the deep blacks seen on plasma displays. But many of the sets available at the moment, including the LG we recently reviewed, use LEDs that aren't individually addressable – so it's still really all or nothing.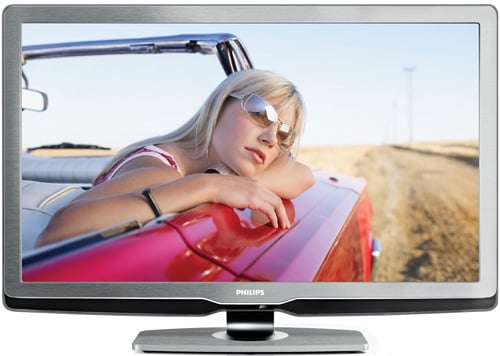 Elite LED backlighting: Philips' 40PFL9704
Philips' 9704 offers 'Pro LED' backlighting, the better to distinguish it from the presumably amateur type on other sets. That means that the backlighting is split into 274 individual segments, each of which is independently controlled. Other selling points include the latest version of the Ambilight system, wireless connectivity, built in web browsing and DLNA support.
Users outside the UK may be able to take advantage of the MPEG4 decoding, and the CI+ slot too, but for those of us in Blighty, an external source of some sort will be needed if you want to watch HD programming. SD Freeview and analogue tuners are, of course, included. Compared to some recent TVs from the competition, the Philips is positively chunky, with the rear panel curving round to the front, and providing sufficient depth for both the Ambilight system and decent size speakers.
This 40in, 1920 x 1080p resolution model has four HMDI sockets on the rear, as well as two Scart sockets, component and VGA inputs, while the left hand side provides a fifth HDMI – helpfully labelled 'HDMI side' in the menus – together with S-Video, composite, audio in, headphone out, and a USB port. The rear panel also hosts analogue audio outputs, coaxial digital (no optical), and an Ethernet port, should you not want to use the 802.11g Wi-Fi.
The right hand side is host to the usual set of buttons for volume, channel change, and menu functions, in case you lose the remote. That is a very solid feeling unit, with a brushed aluminium top panel, which can also be programmed as a multi-function remote, with an on-screen wizard telling you which codes to enter for particular brands; that said, we couldn't persuade it to emulate the 'back' button for the LG Blu-ray player we had to hand. Still, if it drives your devices, it's useful to have.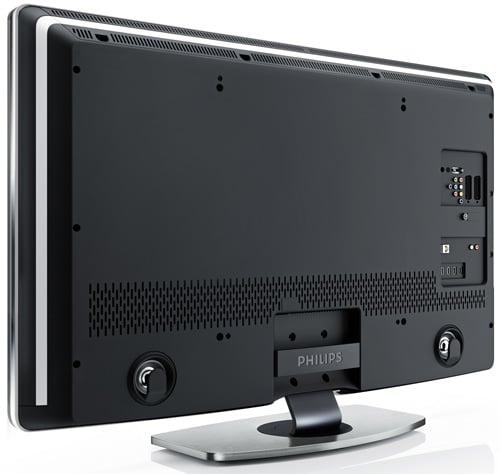 Digital interfacing is coaxial only, with no optical option
Initial setup is straightforward, with both analogue and digital channels tuned automatically. Unlike many other brands, the Philips combines the two by putting the analogue stations in the 400 range, so you don't have to fiddle with a source or mode switch to move between them.