Initially, we felt the Freeview picture looked a little grainy, but turning down the sharpness control improved matters tremendously. There's a good range of adjustments available, including preset modes, and plenty of opportunity to tweak, as well. The remote gives easy access to some of the most common settings, with a dedicated button for aspect ratio too, and a press of the Home button will take you to a main screen where you can access settings, home media, USB keys, and so on.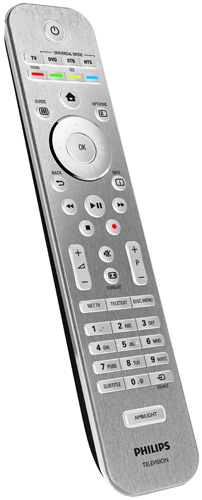 Easy access to most common functions, but others require some digging
Initially, we were annoyed that it didn't seem possible to stop the set from expanding 4:3 content to fill the screen; you can't do that from the button on the remote, but burrowing through the menus and selecting the counter-intuitively labelled Auto Zoom did the job.
Freeview, as mentioned, provided a decent SD picture, as did a connection using the component input, once the sharpness and noise reduction settings had been tweaked. However, we didn't much care for the EPG view, which has channels down the left and just two columns on the right – effectively an extended now/next view rather than a full programme grid.
The Ambilight is a feature you will probably either like or hate. It's certainly responsive with lighting around three sides of the set, capable of displaying a range of hues from each panel. Obviously, it works best against a white wall and there's a dedicated button on the remote to turn it off. Most people buying a set like this will, of course, be using it for HD sources and it certainly accommodates with its five HDMI inputs. The combination of full HD resolution, with 200Hz motion interpolation and that Pro LED backlighting, makes for stunning viewing.
Watching The Dark Knight, we saw the blackest blacks so far for an LCD panel; the area above and below the picture really is black, rather than the very dark grey of a traditional backlight. Motion looks smooth, the contrast is excellent and – once you've tweaked it to your preferences – the picture quality is excellent, as you'd expect for this money.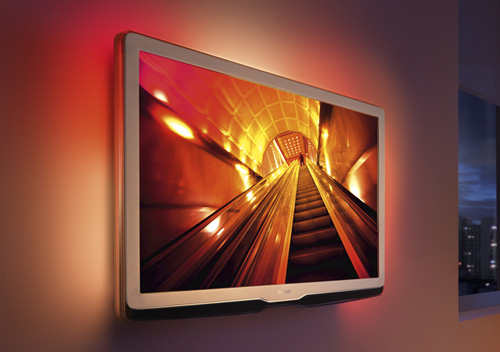 Ambilight: the je ne sais quoi viewing experience
There aren't any surround modes on the set – and in our experience they seldom do much anyway – but the built in speakers do provide a richer and more natural sound than thinner sets can offer. It's a pity there's no optical digital out, but with no HD tuners, that's perhaps not too important to most users.