We had rather more mixed results with the network functionality. Philips boasts that the set can provide unfettered Internet access, and that's true. At first you reach a portal, providing quick access to sites like YouTube and DailyMotion; a further click allows you to enter URLs directly, with on-screen buttons for 'http', 'www.', '.com' and so on, speeding entry up.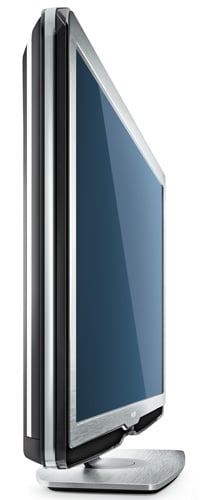 Not the slimmest, but sounds good
However, the response was a bit sluggish, and while it makes a decent fist of displaying even complex pages like The Guardian, multimedia support is limited, and some CSS tricks aren't supported, like drop-down menus. Stick with mobile-orientated sites, and it's a useful extra, but not earth shattering.
DLNA support is a bit of a mixed bag; we could play VOB files without any problems, though not .mpg MPEG2 files. The spec sheet also boasts support for .AVI files, but that certainly doesn't seem to include DivX content, nor did our WMV test files play, although some files played from a second TwonkyVision server, but only when transcoded.
To be fair, though, it would be hard to find a DLNA-compliant TV set that doesn't have compatibility issues these days. All in all, the 40PFL9704 produces a great picture, especially from HD sources, and the network extras may appeal to some users, as might the Ambilight. But it does come with a hefty price tag.
Verdict
There's no doubt that this set has astonishing contrast, thanks to the segmented LED backlighting. It's also generously equipped with plenty of inputs, and rather than going for all out for slimness, there are decent speakers too. But the DLNA connectivity isn't up to that much, and full net access is a gimmick that's a little sluggish in our view. Paired with external HD sources, it's a great choice, but price and lack of HD tuners preclude a higher rating. ®
More HD TV Reviews...

LG
42SL9000

Sharp
Aquos
LC40LE700E

Samsung
UE40B7000

Sony
Bravia
KDL-46W5810

Philips 40PFL9704 40in LED backlit TV
Stunning contrast levels and good sound, plus decent connectivity make this a serious contender for anyone who has external HD sources.