Updated Asus has clarified plans for an e-book reader rollout, telling Register Hardware that it will launch three models in the UK this year.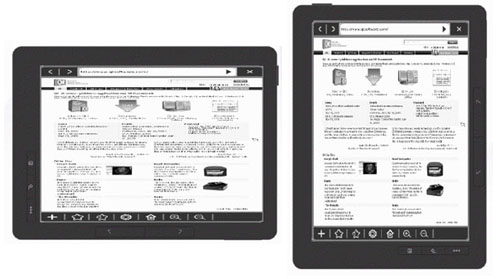 The DR-950: Asus' first and largest e-book viewer
Details of a 5.7in colour-capable Asus e-book reader – the DR-570 – appeared earlier today. However, Asus has since told us that a 9in model – the DR-950 – and monochrome 5.7in model - the DR-750 - will be launched on staggered dates throughout 2010.
Set to appear here during March/April, the DR-950's E Ink touchscreen will display 16 shades of grey and sport a 768 x 1024 resolution.
Asus has equipped the e-book reader with text-to-speech functionality - there's a 3.5mm headphone socket on board too - web browser, handwriting recognition, dictionary and either 3.5G or 802.11g connectivity. Data will be stored on SD memory cards, Asus said, though the device will have 4GB of built-in storage too.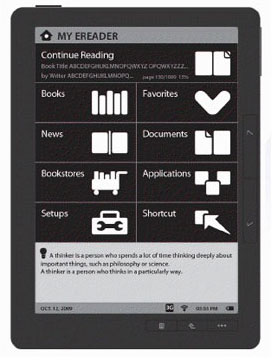 The DR-950 will hit Blighty in March/April
The DR-950 measures 222 x 161 x 9mm and weighs in at 370g. A full battery charge – which Asus said takes 3.5 hours - will let owners read for up to four days. Recharges over USB 2.0 will be possible.
The machine will support PDF and ePub file formats, Asus said.
Asus has not yet set a launch date for the monochrome 5.7in e-book viewer, but the company told us the machine will appear ahead of the colour DR-570 – set to launch in Blighty during Q4.
Software and battery life tweaks are apparently holding back the DR-570's launch, Asus admitted.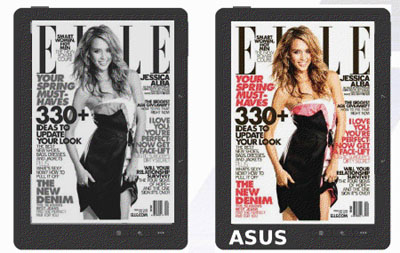 Asus will launch the monochrome DR-750 and colour-capable DR-570 - both 5.7in models - later this year
Asus would say nothing about 5.7in e-book reader's features, but we believe its features will mirror the DR-570's.
Prices for all three Asus e-book readers remain a mystery. ®