Leccy Tech General Motors (GM) has finally found a home for its dual-mode plug-in hybrid drivetrain, in the shape of a concept Cadillac.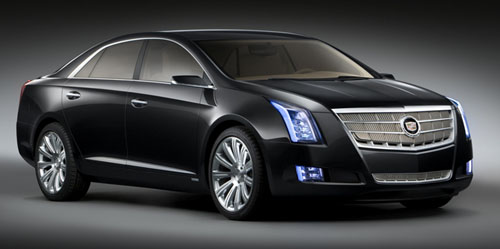 GM's Cadillac XTS Platinum will go from concept to production in 2012
Unveiled at the ongoing Detroit Motor Show, the Cadillac XTS Platinum will form the basis of a very similar model that GM has promised will enter production during 2012.
Unlike existing hybrid systems used in, say, Toyota's Prius, GM's dual-mode plug-in hybrid drivetrain has been designed with prolonged electric-only travel and outright performance in mind – instead of simple fuel economy.
Grunt comes from a lithium-ion battery pack – instead of nickel metal hydride – that can be charged from the mains, GM said.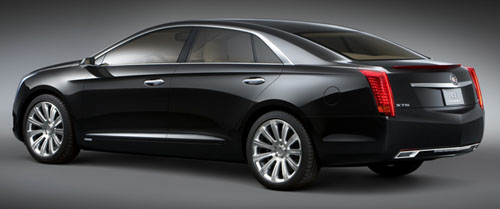 Electric-only drive will move the XTS for 20 miles
GM previously hoped to use the drivetrain in its Saturn Vue back in 2008 and later in a Buick SUV, but both projects have since fallen through.
In its current conceptual form, the Cadillac XTS Platinum couples a 3.5l petrol V6 engine with a two 74bhp (55kW) electric motors and an 8kWh battery pack. Careful driving should allow the car to cover 20 miles without using a single drop of unleaded, GM added.
A two-door Cadillac coupé based around the Chevrolet Volt's drivetrain is also expected to appear in 2013. The Converj was displayed at 2009's Detroit Motor Show and is known to be a favoured project of GM executive Bob Lutz.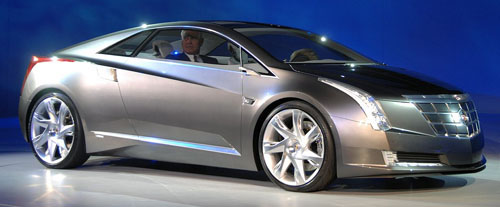 GM's Converj will hit showrooms in 2013
Register Hardware is keeping its figures crossed that both Cadillac cars make it to Blighty in right-hand setup. ®