Strategy Boutique A notoriously creepy Malthusian thinktank appears to have provided the inspiration for the design of Google's new web browser, Chrome. The icon for Chrome seems to be little more than a holistic logo of The Club of Rome.
Both logos appear to have formed spontaneously at around the same time. The Club of Rome appears to have debuted the logo for its "New Path of World Development" programme in June 2008, while Chrome unveiled the browser with a comic in September 2008; an example of the Hive Mind, surely.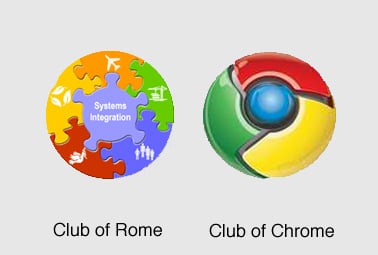 The Club of Rome was formed by wealthy industrialists, who gathered together to figure out ways how other people couldn't be as wealthy as themselves. By hampering economic growth, for example, or limiting people's economic choices. It has played a pivotal role in encouraging the "we're-all-doomed" Doomsday Cult of environmentalism today, being dubbed the "Green Al-Qaeda". Most notoriously, one of the founders wrote:
"The common enemy of humanity is man. In searching for a new enemy to unite us, we came up with the idea that pollution, the threat of global warming, water shortages, famine and the like would fit the bill."
At first all this apocalyptic vision seems an unlikely inspiration for the happy wish-fulfilment world of the Chocolate Factory.
Or is it ?
Recall how the Oompa Loompas sang:
IF YOU'RE NOT GREEDY YOU WILL GO FAR / YOU WILL LIVE IN HAPPINESS TOO / LIKE THE OOMPA LOOMPA DOOMPADEE DO / DOOMPADEE DOO

Surely they were spreading the message that Growth has its Limits? In words even Larry Page can understand, memorize, and write down in his colouring book. Google advisor and the world's first carbon billionaire Al Gore is a Club of Rome member, echoing many of its apocalyptic themes.
And "systems integration"? Yep, we can do that. Along with - for the particularly paranoid amongst you - seeking to meter your medication.
It's all a strange coincidence. ®
Similar topics