IBM is giving its researchers a new pipeline to show off early versions of net-based Lotus collaboration tools.
As part of its annual Lotusphere conference on Monday, the company also provided a peek at what it sees as the future of the business collaboration suite, a thing called "Project Vulcan."
Taking a page from Google Labs, Big Blue's new LotusLive Labs website is designed to spur public feedback (and hype) on LotusLive cloud collaboration technologies while they're still cooking in pre-production. The project is a joint effort from IBM's Research unit and its Lotus software team.
Scheduled to make a beta appearance on the LotusLive Labs in the second half of 2010, Project Vulcan looks to be the most ambitious of the Lotus previews debuting on the website this year.
According to Ed Brill, IBM chief of product management for Lotus software, Project Vulcan represents the future direction for Lotus Notes. It's described as combining email, profiles, calendars, and social analytics in one spot, and it will use analytics engines and business-specific scenarios to make collaboration more relevant and focused. It also promises to include developer-friendly services and APIs.
Shades of Google Wave, with a bit of IBM's analytics oomph behind it. But user interface-wise, it's all Facebook - judging by the "conceptual representation" graphic Mills supplied: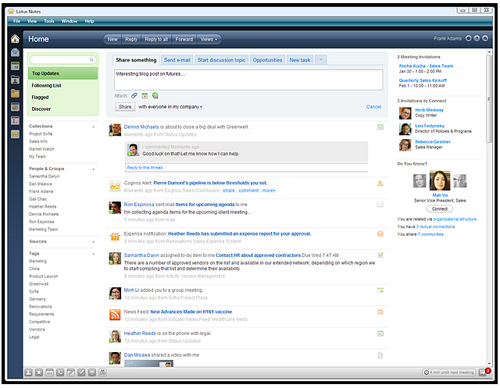 Project Vulcan sneak-peek.
"One of the key evolutionary thoughts in IBM Project Vulcan is to move from what we currently refer to as 'linked value' across the IBM portfolio to the notion of 'loosely-coupled' services," Brill wrote in his blog. "This makes sense in an increasingly-expected hybrid environment, and will simplify deployment and adoption of collaboration and productivity within your organization.  Web services, xPages, HTML5, RESTful APIs, will all be tools in pushing Project Vulcan forward."
Other LotusLive previews in the pipeline include Slide Library, a collaborative way to share presentation resources; Event Maps, an interactive way to organize and browse conference schedules; Collaborative Recorded Meetings, a service that records and transcribes meeting presentations; and Composer, which lets users create new applications by mashing up existing services from the web, email, and collaboration tools.
The four can be previewed now by signing up for IBM's LotusLive Labs website. ®
Similar topics
Narrower topics