Getting stuck down one-way country paths because that's where your satnav told you to go should soon become a thing of the past, because Garmin plans to add bird's eye view satellite images to selected models.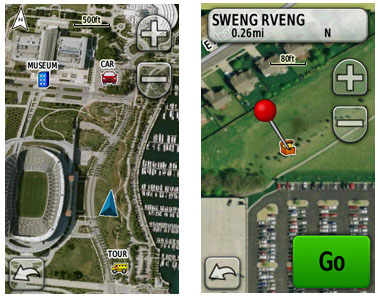 Garmin's BirdsEye images should make navigation easier
The firm's BirdsEye Satellite Imagery technology will essentially allow satnav owners to see exactly where the "next turning on the left" is — and where the path goes.
BirdsEye's image library was compiled using satellite photos, Garmin promised. Each is geo-referenced and the collection highlights everything from roads and rivers to buildings and landscape features.
Users can also view images at zoom levels of between 12 miles and 20 feet, Garmin added.
Google Maps already does this kind of thing, of course, and is cheaper. But it doesn't provide the turn-by-turn spoken guidance that the Garmin satnavs will offer.
BirdsEye will initially be supported on Garmin's Oregon, Dakota and Colorado ranges of handheld GPS devices, though windscreen mounts are available for all three. Annual subscription to the imagery add-on - set to launch in March - will cost £22. ®