Forget everything you know about guitars – acoustic or otherwise — because a hi-tech guitar has been designed that replaces strings and strumming with a touchscreen and Linux.
The Misa Digital Guitar is shaped like a traditional electric guitar, but made from plastic and – instead of strumming — requires the player to tap their fingers on an 8.4in LCD.
Can't see the video? Download Flash Player from Adobe.com
The process sounds bizarre, though Misa's creator – a software developer known only as Michael – makes playing the futuristic guitar look extremely easy in his demonstration video (shown above).
Misa replaces strings with six rows of metal contacts and 24 sets of equally-spaced frets, allowing players to produce different notes as they simultaneously tap their fingers on Misa's screen.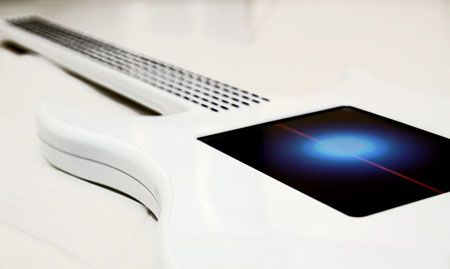 Misa's frets are not pressure sensitive
The guitar's touchscreen only supports single-touch tapping. Sounds get louder the further towards the bottom of the touchscreen you tap, with more distorted sounds created by moving to the right of the screen.
Misa contains a 500MHz AMD Geode processor and runs the Gentoo version of Linux, which Michael said "is just for the brains of the guitar". Sound is produced by plugging the instrument into a Midi controller.
Michael has promised that the guitar will be produced in black and white body colours. A price or launch date hasn't been set, though you can register your interest online now.
Misa Digital – presumably the company set-up to handle the instrument's impending sales – is based in Australia. Register Hardware is keeping its fingers crossed for a UK launch. ®