Apple and Microsoft plot iPhone Google slap
Bing to Jesus meeting
Onetime mortal enemies Apple and Microsoft are in talks over the possibility of Redmond's Bing replacing Google as the default search engine on the iPhone, according to a report citing two people familiar with the matter.
Anonymous sources speaking with Business Week say the two tech giants - so long at odds in the operating system wars - have spent "weeks" discussing a slap to Google on the Jesus Phone. "Apple and Google know the other is their primary enemy," one source told BusinessWeek. "Microsoft is now a pawn in that battle."
There was a time when Apple and Google were relatively chummy. Mountain View boss Eric Schmidt spent three years on Apple's board, and according to some, the two companies even had a unwritten agreement not to poach each other's employees.
Google has been the default search engine on the iPhone's Safari browser since the device debuted in 2007, though you do have the option of switching the search box to Yahoo! According to sources speaking with BW, before the inaugural iPhone launched, Apple agreed to make Google the default "with little hesitation," and the two companies went on to co-develop the iPhone incarnations of Google Maps and YouTube, another Google property.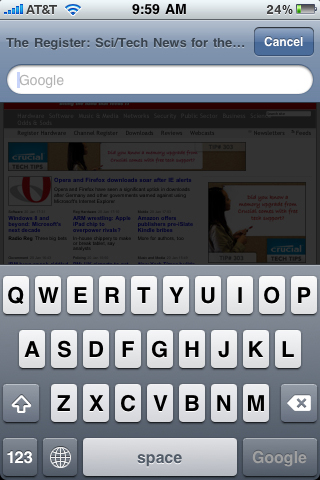 Google search on the iPhone
But the relationship has unraveled in recent months. Schmidt resigned from Apple's board last August, with Apple chief Steve Jobs saying that Schmidt's "effectiveness as an Apple Board member will be significantly diminished" now that Google is offering its own mobile operating system, Android, and building its own netbook operating system, Chrome OS.
The move came after the US Federal Trade Commission (FTC) said it was investigating the overlap between the two companies' boards. But the pair have also sparred over Google Voice, the new-age Mountain View telephony app that Jobs and company barred from the iPhone. And Google has since upped the ante in the mobile handset market by offering its own Android phone, the Nexus One.
Apparently, Apple's rivalry with Google has escalated to the point where it's willing to jump in bed with Microsoft. But BW sources say that any Bing-iPhone pact would be short-lived. Word is that Apple has a "skunk works" looking into the possibility of its own search engine. "If Apple does do a search deal with Microsoft, it's about buying itself time," one source says. "Apple isn't going to outsource the future."
The ultimate concern here is search advertising. According to the latest number from mobile ad outfit AdMob, the iPhone accounts for more than half of all ads on smartphones, and many of those are served up through Google's search engine. Meanwhile, Google is using Android to push its search engine - and other ad-laden apps - onto countless other phones, including the Nexus One. AdMob is now a Google company, after Mountain View apparently swiped it from the clutches of Apple.
Microsoft is still playing catch-up with its phone OS, Windows Mobile. But Redmond has had some success in pushing its search engine onto other mobile OSes. In mid-December, US wireless provider Verizon unilaterally updated users' Storm 2 BlackBerries and other smartphones so that their browser search boxes can only be used with Microsoft Bing, part of the five-year search and advertising deal Verizon signed with Microsoft the previous January for a rumored $500m. ®