Cisco trials 'internet in space'
In-orbit IP router
---
Cisco's dream of selling radiation-proof space routers is now a step closer after a successful in-orbit test on a commercial satellite.
Piggybacking aboard Intelsat's IS-14 satellite launched in November, the US Department of Defense's Internet Routing in Space (IRIS) project aims to route IP voice, video, and data traffic between satellites the same way packets are pushed on the ground.
The IRIS program is a DoD Joint Capability Technology Demonstration managed by Cisco and Intelsat. Cisco intends to trial the space router's potential applications for commercial use after a three-month JCTD testing period ending in April 2010.
Today, most satellite communications networks direct the flow of data from equipment located on terra firma. For satellites to communicate with one another, data is either sent by radio signals to a relay satellite or through ground stations. Cisco believes that deploying routers aboard satellites would allow them to communicate directly using common internet standards.
Cisco claims that the scheme will reduce delays in video and voice transmissions caused by the need for data to make additional hops between heaven and Earth.
The US government is on-board because it could allow military units to communicate with one another more cheaply and efficiently using IP and existing ground equipment.
Cisco also says that space-based routers will make it more practical for telecoms to offer high bandwidth, on-demand services by eliminating the need for customers using existing satellite networks to reserve bandwidth and pay for it whether its used or not.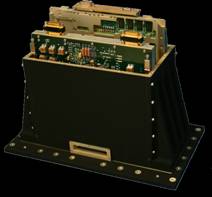 Cisco's IRIS router
Now that the IRIS router is up-and-running in orbit, the hardware will undergo two rounds of boffin prodding for the public and private sector. Beginning in February, the US government will have the first crack at evaluating IRIS for military use for about three months. After that, Cisco will spend a year evaluating the space router for commercial use.
"Just as satellites transformed the global reach of communications and let to significant innovation, so too will the delivery of global IP-based communications services via satellite drive major cost efficiencies and flexibility to entities around the globe," said Steven Boutelle, veep of Cisco's global government solutions group in a statement.
Cisco hopes the idea of internet in space will catch on with telecoms — extending the network giant's customer base to a new market beyond the confines of Earth. ®