This article is more than 1 year old
Bill Gates hits Twitter, re-opens Facebook
Celebs join the crush
Bill Gates, the man who foresaw the PC revolution but underestimated the impact of the web on Microsoft, has happened upon another facet of the internet: Twitter.
The cofounder and former chief software architect of Microsoft fired off his inaugural Tweets on the afternoon of January 19. The Tweets came as Gates also reactivated his Facebook account, decommissioned last summer because too many people wanted to become his friend.
The Tweets and first Facebook posts were telling of the kinds of things he's interested in these days, as co-head of the Bill and Melinda Gates Foundation that focuses on health and development. He re-Tweeted comments from American Idol host and US TV and radio star Ryan Seacrest on raising funds for victims of the Haitian earthquake, while also posting on Facebook about the crisis in the Caribbean republic.
Seacrest gave Gates a shout out, below.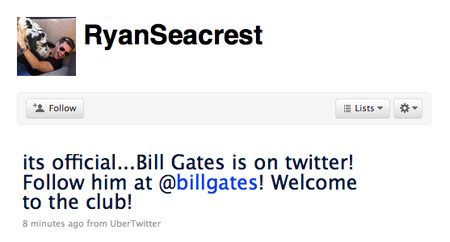 Media power: Ryan Seacrest welcomes Bill Gates to Twitter
Gates - a man considered a leader by many - does admit to following others on Twitter, if in a minor way. The billionaire, father of Windows, and mega-philanthropist lists just 40 people or organizations he follows. That compares to 31,361 following him within the four hours of joining Twitter. So much for his complaint in 2009 when he closed his Facebook account of being overwhelmed when just 10,000 people wanted to be his friend.
On Twitter, Gates follows: politicians and royals with Barack Obama and Jordan's queen Rania, news outlets The Economist and The New York Times (alas, no Reg), journalists, philanthropic and social organizations, and foundations including Unicef and the Carnegie Foundation.
Gates also follows Microsoft - natch - and, oddly, singer and actress Ashley Tisdale from Disney's High School Musical. The Gates' kids must have hacked his account already.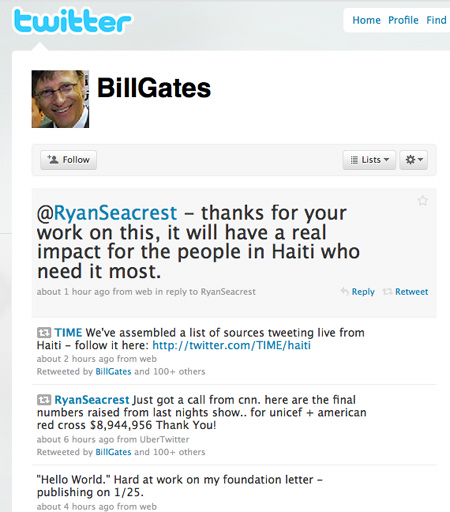 Baby steps: Gates makes his Twitter debut
Such was the level of interest in the news Gates had jointed Twittter, branded "gay" in 2009 by performer Kid Rock, that if you tried to join the legions attempting to friend him by the end of Tuesday afternoon you were greeted with Twitter's always unpredictable - but ever familiar - Fail Whale. ®