Opinion As celebrities met at the top of Mount Kilimanjaro last week to weep for Gaia's disappearing ice, NASA has quietly scrubbed the claim that the world's second largest ice mass in the Himalayas will have disappeared in 25 years.
The Google cache still shows the bogus NASA claim: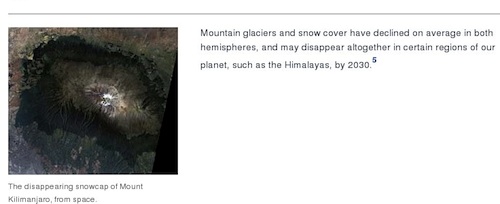 NASA before
But on the revised page, it's beat a retreat:

NASA now
(Thanks to Charles W. for the evidence.)
The IPCC is manfully sticking by its 2035 prediction - which, it turns out, it heard somebody say down the pub.
Note that the illustration NASA uses is of Mount Kilimanjaro - a poster child for Manmade Global Warming since Al Gore's 2005 film An Inconvenient Truth. Last week, showbiz celebrities including Jessica Biel and Lupe Fiasco headed for the summit of the African mountain to "raise awareness" of environmental issues.
And what did they do when they got there? People magazine quotes UN's Elizabeth Gore.
"I walked over to Jessie and gave her a big hug. The two of us embraced and we just cried. Every single one of us was in absolute tears."
Look, luvvies - that's not going to help. Salt melts ice. And the last thing you should do if you're raising awareness about diminishing drinking water, is make the drinking water less drinkable.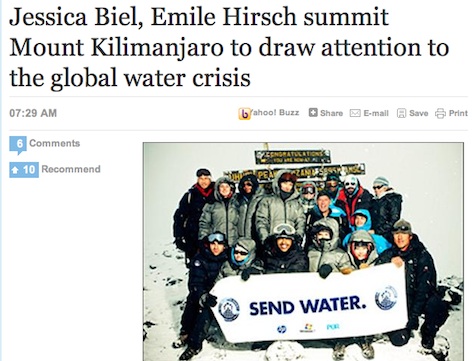 Lachrymose luvvies: you're really not helping
Two footnotes to the glacier coverage. The scientist who made the claim off the cuff a decade ago in New Scientist has been given a job by the chairman of the IPCC, R K Pachauri, at Pachauri's institute, TERI.
And like us, bloggers have noticed the irony of New Scientist magazine worried by the prospect that "rumour and doubt" may cause damage to "the image of climate science". The pop science mag was responsible for spreading the rumour in the first place - via veteran eco worrier Fred Pearce.
Pearce, the blog Climate Resistance notes, is the author of a dozen books on global warming - and more on water, acid rain and other environmental scares. What might be an unfounded bit of hearsay to you or me is a potential career opportunity for the committed eco campaigner. ®