This article is more than 1 year old
Oz man coughs to DD-jub job advert outrage
Perp laments 'heavily intoxicated' hack
The man responsible for the Border Express IT developer job advert outrage handed himself in to police last week, Oz's The Border Mail reports.
The ad was posted on Seek on 8 January, and quickly altered to demand some interesting qualifications: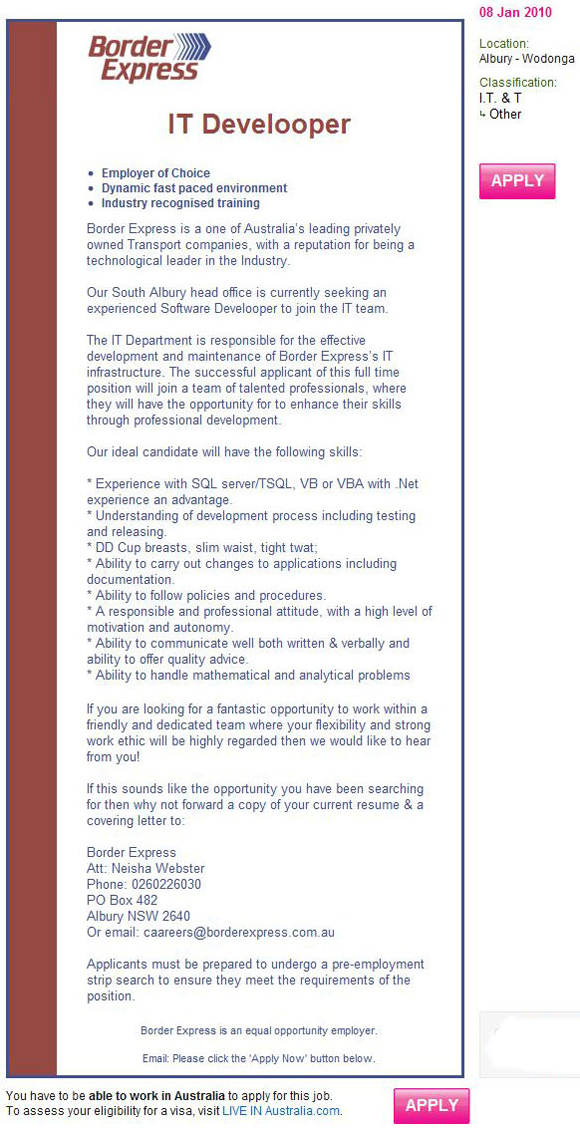 With a little help from El Reg, the hack quickly went global and, following local press coverage, the unnamed perpetrator decided to do the decent thing.
The former member of Border Express's human resources department agreed to pay AU$300 to publish a letter of apology in The Border Mail today, in which he laments his "completely irresponsible" and "highly inappropriate" stunt.
The letter reads: "My actions were taken while heavily intoxicated and without giving consideration to the consequences. I attempted to rectify the situation by changing the advertisement back the next morning and was dismayed to read the article in The Border Mail and to find that it had spread internationally."
Border Express's IT manager, Jeff Quinn, said yesterday the company "had accepted the former employee was sorry for his actions and didn't wish to pursue it further".
He explained: "He was a young bloke who left a little while back, prior to Christmas. He wasn't disgruntled or anything, he just mucked up... he got on the turps one night and it went from there. He fully understands what he has done and he's very remorseful." ®