This article is more than 1 year old
Sony Cyber-shot DSC-WX1
Clever compact with painless panoramas
Review Sony is renowned for its stylish compacts, and the DSC-WX1 is no exception. It not only looks smart, but contains some interesting technology too. At around £300, the DSC-WX1 is aimed at the top-end of the compact market, but do its features and performance justify the price?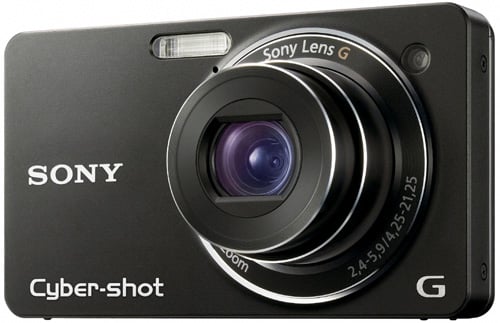 Broaden your horizons with Sony's Cyber-shot DSC-WX1
The DSC-WX1 is one of the first Sony cameras to feature a new Exmor R CMOS chip, which is back illuminated to improve low-light performance and reduce noise – or so it says on the tin. The 1/2.4in sensor offers 10.2Mp (effective) performance. Other features include a 5x optical zoom in the shape of an f/2.4-5.9, 4.25-21.25mm Sony G lens. This equates to a 24-120mm lens on a 35mm camera, so you can get a decent wide angle performance with this camera.
The DSC-WX1 also offers an ISO range of 160-3200, shutter speed range 2-1/1600sec. HD movie recording is has a 1280 x 720 resolution and is captured at 30fps in the MPEG-4/H.264 AVC format. And there's more, including a continuous shooting speed of 10fps in full resolution. That kind of performance would be impressive on a DSLR; on a compact, it's simply mind blowing.
Twilight Hand-Held and Anti Motion Blur are shooting modes which fire off six frames and combine them to improve picture quality when shooting in low light without flash, and last but not least, there's Sony's Sweep Panorama system. We first saw this on the DSC-HX1, and it's a neat way of taking panoramic shots.
Instead of having to take a shot, align the next one, take another shot, and so on, you just press the shutter and pan, and the camera automatically stitches the frames together. The shooting angle for panoramas has been increased to 256 degrees when panning the horizontally, so you can really pack a lot of scenery into your shots. You also get Sony's Optical SteadyShot image stabilisation system.

Multiple shooting modes, but no manual control
So far, so good, but the DSC-WX1 is lumbered with a couple of proprietary features. While world plus dog has opted for SD memory cards, Sony insists on sticking with its Memory Stick format. What's more, you'll need miniature Memory Stick Duo cards for this camera. And a full-size Memory Stick adaptor if you want to use the Duo cards in a card reader or adapter (no surprise that Sony provides neither card nor adaptor with the DSC-WX1). Oh, but you do get 11MB of internal memory – enough for two full resolution images.