Speedo Aquabeat
The life aquatic
Review If you fancy some music while you work out at the gym or go jogging then the options are endless. Apple, Sanza, Samsung or Sony will all sell you something small and robust so you can fight the flab to Lady Gaga or Rage Against The Machine. Jump into the pool for a dozen lengths with any of them though and you will soon be listening to the sound of silence. Enter renowned swimwear makers Speedo with just the answer, the Aquabeat waterproof MP3 player.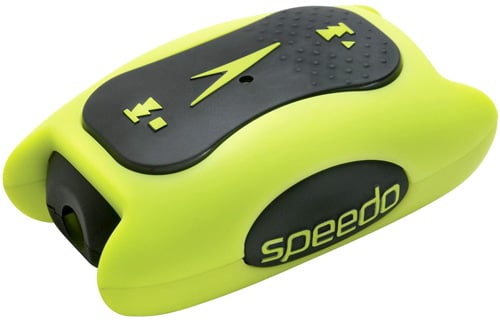 Making a splash: Speedo's Aquabeat
The Aquabeat is actually only rated to a depth of 3 metres or 10 feet so you can't get too Jacques Cousteau with it, but it will suffice for stroking about in the pool or splashing around on the beaches of Bimini or Phuket. It's also buoyant, so there is no chance of you breaking the surface while it drifts to the bottom to be carted off by a larcenous crab.
The player itself is a small 35g rubberized lump with a clasp on the bottom so you can hook it to a bikini string or goggles strap. If you prefer to swim in the buff, then you can either stuff the Aquabeat where the sun don't shine or purchase the optional £15 arm band, which would be our recommendation.
Controls are very simple with a pressure pad on the top taking care of power, start, stop, skip forward and back, while a rocker pad on the side manages the volume. Press any control and a small 'beep' is heard letting you know the command has been acknowledged.
The only orifice in the Aquabeat is the 3.5mm jack which doubles up as both the headphones socket and the USB port. The bundled earphones are of the loop-around-the-ear type and while a bit of pain to get situated are very secure once in place - no matter how we thrashed, turned and twisted they never once fell out.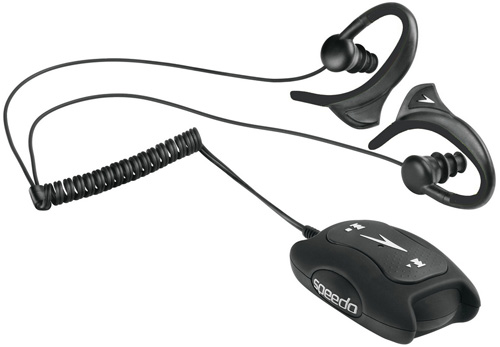 Simple controls, but no shuffle mode, alas
Speedo bundles three types of rubber ear-bud - one conventional pair that won't keep the water out and two sizes of three ridge buds that will. The rather short earphone cable is coiled for a third of its length which helps prevent users strangling themselves or snagging on undersea obstacle,s though Speedo also supplies a 1m extension cable to make life easier on dry land.