This article is more than 1 year old
More problems for Apple's top desktop
Your clunker will be delayed
Apple's star-crossed top-of-the-line iMac is causing new problems for Cupertino - but this time it's not about cracked casings or flickering displays.
It's just late. Again. Thanks to some sharp eyes at AppleInsider, we've been alerted to a posting on Apple's online store that shipments of 27-inch iMacs - both the Core 2 Duo and Core i5 versions - are being delayed by three weeks.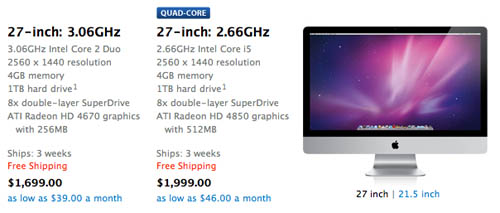 You'll have to wait before you can take a chance at thoroughgoing frustration
This is just the latest problem for the king of the Apple all-in-one lineup. Shortly after the big boy began shipping after its October 2009 debut, buyers discovered problems - big problems, such as cracked casings or not being able to start up at all.
Then, when Apple apparently was busy trying to fix those problems, buyers faced shipping delays, a situation that brought to mind the old groaner about a restaurant in which the food's lousy and the portions are too small: "Sorry, mate, but your malfunctioning iMac will be late."
Uncharacteristically, Apple actually commented on the delays, asking for forgiveness through a Cnet reporter by saying: "We apologize for any inconvenience or delay this may cause our customers."
Unfortunately, many of the iMacs that could boot up were plagued by display problems such as flickering and image corruption. In late December, Apple issued a firmware update intended to fix what the company admitted were flickering and image-corruption issues. For some users, it worked. For others, no dice.
On Apple's discussions forum, there's a thread entitled New iMac 27inch screen flickering/tearing/shutoff that has ballooned as of Thursday morning to 3,411 posts read by 474,072 viewers. Over at imac.squeaked.com, 1,932 posters have weighed in on a Apple iMac (Late 2009) Issues survey, with 77 per cent of the posters reporting problems.
And now the 27-inch iMac is being delayed again. In US parlance, it may be time to admit that many of those high-end iMacs are simply "lemons" - that is, irredeemably flawed. ®