A bizarre series of billboards have appeared in Manhattan, featuring the grinning mugs of Oracle president Charles Phillips and partner YaVaughnie Wilkins.
The posters feature a touchingly romantic message - from "c.e.p," aka Phillips - complete with an incredibly long URL that invites passing New Yorkers to visit an online catalogue of photos of the couple, looking beautiful and casual in a series of lush locations going back to 2001. There's also an interesting selection of the couple's memorabilia.
The posters of Phillips and Wilkins, seen here and here, were picked up by Gawker and related site Valleywag.
We compared a sample shot from Phillips and YaVaughnie's catalogue with Philips' Oracle corporate mug shot (below) to validate the posters.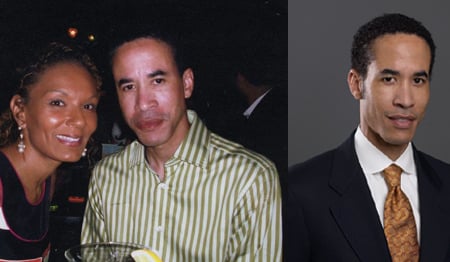 The woman behind the man: Phillips and YaVaughnie, left, and Phillips suited, right
Netizens have been asking what's behind the couple's sudden NYC appearance, and some hints might lie in the romantic message from "c.e.p" that accompanies them: "You are my soulmate for ever."
Apparently, the couple have been together for eight years, so fellow romantics see this as a possible prelude to proposal - or the aftermath of a break up. Skeptics feel Phillips could be apologizing for something big - like, maybe, eight years and no ring.
Oracle watchers are split. The normally retiring Phillips is either raising his profile to escape from the shadow of boss, chief executive Larry Ellison, and co-president Safra Catz or has learned from the BMW-boat-racing, Marchetti-flying Ellison the subtle art of self promotion. ®