Zero-power LCD aims to reduce paper use
Chalkboard for the 21st Century?
Pen and paper remains the simplest and often quickest way of scribbling down messages. Now US-based screen manufacturer Kent Displays has launched a power-free LCD writing tablet designed to reduce the world's paper use.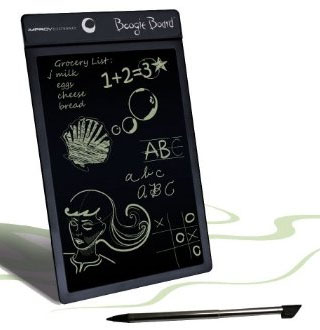 Kent Displays' Boogie Board: create electronic images without power
The Boogie Board LCD Writing Tablet's screen is made using Kent's own no-power LCD technology.
The panel is flexible and has a reflective layer so there's no need for a backlight. Like E Ink screens, this one is non-volatile, so it doesn't require power to keep the pixels showing what they're showing.
Pixels change colour as you write on the screen. The more pressure you apply, the thicker the line.
A "small amount of power" is needed to wipe the slate clean when you're done. This comes from a watch battery good for 50,000 uses, Kent said.
Boogie Board is available now through Amazon US for $30 (£18).
The gadget is expected to launch in the UK later this year. ®