Web2.0rhea infects International Space Station
'We r now LIVE tweeting'
---
A US astronaut has made a giant leap in social-networking history by sending the first tweet from space.
Space cadet Timothy Creamer, aka Astro_TJ, sent the historic missive Friday morning from the International Space Station, which had just received a software upgrade to allow real-time web access.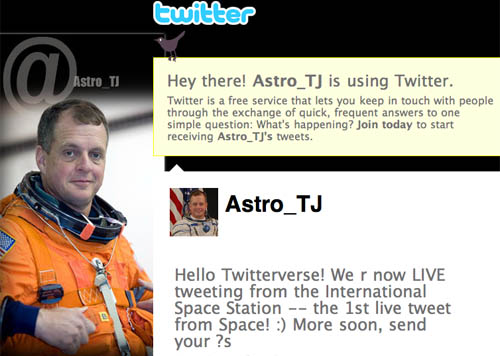 Your US tax dollars at work
With quintessential astronaut efficiency, Creamer's epochal tweet was exactly 140 characters long.
The ISS's new Crew Support LAN, which NASA calls the "ultimate wireless connection," is intended "to enhance [astronauts'] quality of life" during those cold and lonely days circling the earth at over 17,000 miles per hour.
The New York Times reports that the Crew Support LAN provides an acceptably snappy 3Mbps up and 10Mbps down, a rate that should allow the void-voyagers to not only tweet their inner feelings to their followers, but also view skateboarding dogs and dancing comedians on their ThinkPads while sitting in a tin can, far above the world.
The space tweet was just the latest in NASA's Twitterification of its astronaut corps, featuring such twittering space travelers as Astro_Bones, ZeroG_MD, Astro_Soichi, Astro_Mike, Astro_Nicholas, and others. ®