Rickets rise linked to excessive gaming
Too much PlayStation, not enough sunshine
The number of British kids suffering from the deficiency disease rickets is soaring, medical experts have claimed. The cause: too many hours indoors playing videogames.
Professor Simon Pearce and Tim Cheetham, both of Newcastle University, wrote in the British Medical Journal this week that rickets – which can cause sufferers to develop bow-shaped legs – is becoming "disturbingly common" among minors.
Rickets is caused by a lack of vitamin D and is often the result of poor diet and a lack of exposure to sunlight. It was very common in Victorian times and earlier eras before improved diet rendered it exceedingly rare.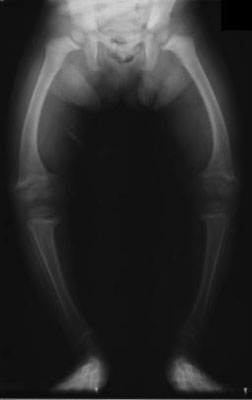 Rickets: common in Victorian times
But more than 20 new cases are discovered every year in Newcastle alone, the two medics said.
"Kids tend to stay indoors more these days and play on their computers instead of enjoying the fresh air. This means their vitamin D levels are worse than in previous years," said Pearce.
Pearce and Cheetham recommend that vitamin D be artificially added to milk and other food products in the UK, in an attempt to counteract the rise in rickets cases.
Other countries, including North America, already do so. But Britain's governor of grub, the Food Standards Agency, rejected the suggestion, stating that most people get "all the vitamin D they need from their diet and by getting a little sun", The Times – notes.
Young gamers were targeted by a government-backed healthy lifestyle advertising campaign in March 2009. It implicitly connected gaming with early death, stating that young 'uns should be active for an hour a day. ®