Microsoft CEO Steve Ballmer has defaced the MacBook Pro of a young fanboi, and his sarcastic scrawling was caught on video.
No, this wasn't another "developers, developers" rant or a chair-chucking loss of control. The fanboi asked him to.
Thanks to AppleInsider, we learned today that during a visit to Tennessee's Trevecca Nazarene University for a meeting of the Nashville Technology Council, Ballmer was approached by a long-haired youth who politely asked him to autograph his MacBook Pro.
"It's got Windows on it," the student said. "I promise."
Ballmer graciously complied, first signing his name with a felt-tip marker, then adding a jolly addendum: "Need a new one?"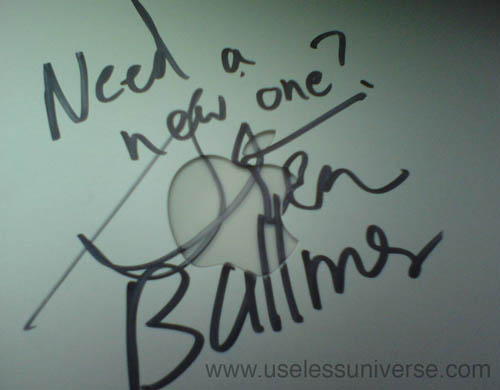 Words of wit from madcap Steve
And before you ask, the answer is "No:" The MacBook Pro in question has not yet appeared on eBay. ®
Similar topics