This article is more than 1 year old
Sony Alpha A550
Less is more?
Review The positioning of the Sony's Alpha A550 in its DSLR line-up is a bold move. At this price point the company has left off some features that most manufacturers are offering as must-haves, namely, HD Video and customisation of picture profiles. What the A550 has instead are features more suited to still photography, with a continuous shooting at a much higher than average capture rate and shadow detail adjustment by two different means.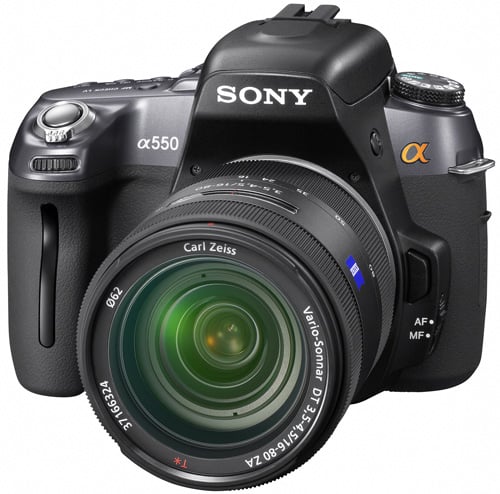 Stills only: Sony's Alpha A550
On the face of it, the Alpha A550 is a camera for people wanting interchangeable lenses on a simple DSLR, and many of these interested buyers know, deep down, that they are never likely to delve into the intricacies of operating a complex modern camera. In fact, they might never change the lens, which in this instance is a very capable DT 18-55mm f3.5-5.6 Smooth Autofocus Motor (SAM) zoom. It covers a very useful range from decent wide-angle shots to a reasonable tele-photo.
Actually the term 'simple DSLR' might be a little harsh. After all, this camera utilises a 23.4 x 15.6mm, 14.2Mp CMOS Exmor sensor, which gives you all the preset programs for different situations (sport, portrait, mountains etc), as well as Program-Aperture-Shutter and Manual. Shutter speeds span from 1/4000th – 30secs and the A550 has a decent ISO range of 200-6400, with a stretch to 12800 through an option in the menu. However, just like with any other camera, don't expect good results at that far end of the scale.
There is also a No Flash setting on the top dial, which is ideal for a no-nonsense, second chance at a shot having taken one full auto flash. It's easy to find next to full auto, just one click away. Metering is good even with tough backlit subjects, though it helps knowing when to switch to the Spot Metering mode, or when to use the Auto Exposure Lock (AEL).
The images themselves are on the punchy side - a little more saturated, very good and clear with a tendency to be overexposed on darker subjects. Yet, like most systems, you can simply bracket with the Exposure Compensation and make the camera yield.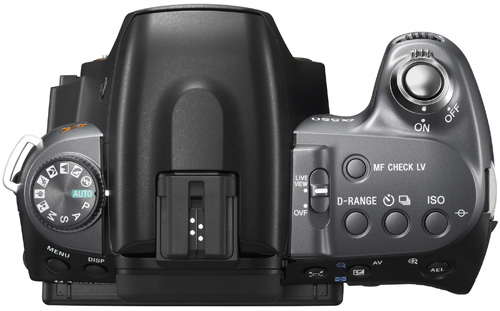 With no LCD display on top, there's room for useful dedicated function buttons
With Speed Priority Mode you you can capture seven frames a second. That is fast, and to be honest, unexpected and almost seems out of place on here. While both focus and exposure are set on the first frame of the sequence – and remain for the subsequent frames – this is fine at this level. After all, this is a camera for people dabbling, not making money from motor sport. You can also opt to capture at 3fps and 5fps. The A550's image buffer can handle taking 14 RAW frames before it has a pause.