Sony registers 'PlayStationArc' domain name
Motion controller brandname clue?
Evidence is mounting that Sony's motion controller wand for the PlayStation 3 will be officially called the Arc.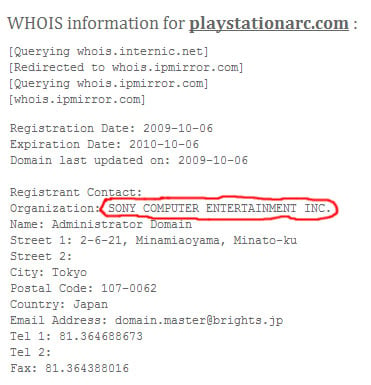 The playstationarc.com website is owned by Sony
Sony announced last week that the wireless unit will hit the UK this autumn, but stressed that "Motion Controller" may not be gadget's eventual name.
Many believe the PS3 wand will be called Arc – a belief mainly born out of a report by gaming website VG247, which last week quoted a "concrete source" claiming to know that Arc has been chosen as the add-on's official name.
It has since emerged that Sony has taken ownership of the domain name playstationarc.com.
The site is currently inactive, but a quick check with domain name look-up site Whois.net revealed that the website is owned by Sony Computer Entertainment Inc.
The URL was registered in October 2009. It's possible that Sony simply took ownership of the URL in case it does pick Arc as the gadget's official name.
The motion controller works in conjunction with Sony's PlayStation Eye camera add-on to optically detect "the natural and intuitive movement of the hand" and translate it into in-game movement.
Essentially a wireless wand topped with a colour-changing orb, the motion controller also features a analogue trigger and other control buttons. ®