Amazon EC2 watcher kick-starts cloud of clouds
Six clouds. One kick
---
Cloudkick - the San Francisco startup that recently spied a latency slowdown on Amazon's sky-high Elastic Compute Cloud - has officially launched its eponymous cloud-management service, a means of juggling server instances across Amazon EC2 and similar on-demand compute offerings.
You might call it a cloud of clouds. When the service launched as a beta last March, it spanned so-called infrastructure clouds from Amazon and Slicehost. It later expanded to the floating service offered by Rackspace, and with today's commercial launch, it has embraced Linode, GoGrid, the New Zealand-based RimuHosting, and the UK-based VPS.NET.
Similar cloud-of-clouds services are offered by the likes of RightScale and enStratus.
Using a unified API, Cloudkick provides a single web dashboard for managing and monitoring server instances across disparate cloud services. You can launch third-party instances directly from the service, and though you can't move server images between disparate clouds, the company demoed such technology back in April, and it hopes to eventually roll this into the live product.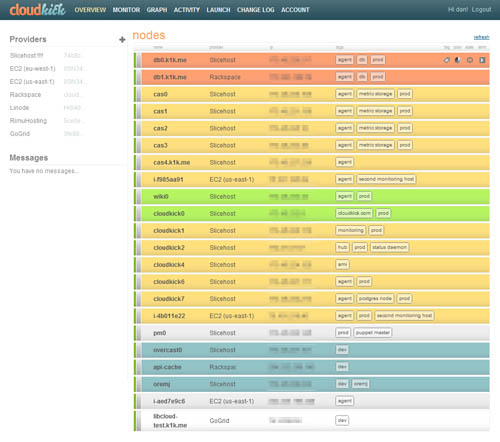 Cloudkick 'dashboard'
Cloudkick is also responsible for the open-source libcloud API, which seeks to provide a standard means of building applications across myriad clouds, and according to Cloudkick CEO Alex Polvi, at least part of this fledgling Apache project has already been rolled into the company's commercial service. Linode, GoGrid, RimuHosting, and the VPS.NET are among those who have contributed to libcloud, Polvi says.
The service offers load, CPU, bandwidth, and memory monitoring and diagnostics tests, and you can now arrange for alerts to be sent via SMS and email when certain thresholds are reached. Earlier this month, these monitoring tools - running across "several hundred" EC2 instances - detected a latency slowdown on Amazon's network, an issue that is apparently ongoing.
You can launch EC2 and other third-party instances directly from Cloudkick, and though this typically involves entering vendor specific API keys, GoGrid has a new arrangement with Cloudkick that lets you launch resources with a master username and password. With all vendors, you're free to rename instances straight from Cloudkick - a small but welcome pleasure in the cloud world, where instance names can be, shall we say, less than descriptive.
Most of the service's existing tools are still free - Polvi tells The Reg that the company will always offers a free version - but additional features now have price tags. Pricing ranges from $99 to $529 per month, depending on the number of instances you're running. You can find the service here. ®