German electronics retail giant Media Markt has Twittered the price of the iPad - and said when the tablet will launch in Europe. Or has it?
According to the post, we should expect to pay €499 (£434) if you buy the iPad through a mobile phone network, or €899 (£781) on its own, unsubsidised.
The device will go on sale on 1 March.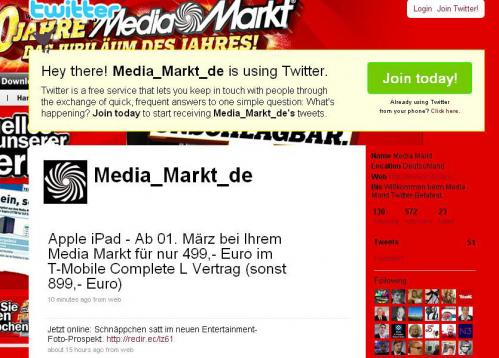 That Tweet in full, as it was...
Now, we should point out that the Tweet has since been withdrawn, it seems. It was re-Tweeted rather a lot, though, and some bright spark took a screengrab just in case.
It's also an odd mistake for a company of Media Markt's stature to make, and not the sort of thing you'd expect to slip through regular public relations channels. But then company Twitter accounts tend to be maintained by individuals, and it's not hard to imagine one such employee, on discovering these details, letting his or her enthusiasm getting the better of them.
Or it could be a wind-up.
The screengrabs show the account as 'Media_Markt_de'. A check on Twitter reveals this an account that hasn't posted anything. 'MediaMarkt_de' hasn't seen much activity, either, and neither has 'MediaMarkt'.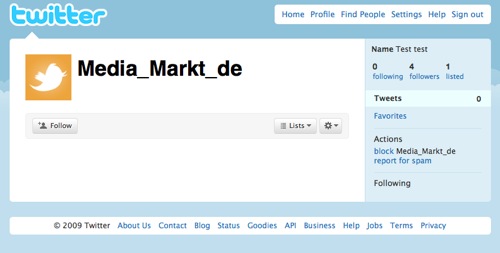 ...and how it is now
In short, we're going to file this one in our list of Twitter hoaxes right alongside 'Johnny Depp killed in car crash'. ®
Sponsored: Webcast: Ransomware has gone nuclear