Apple's iPad - fat iPhone without the phone
The tablet that can't multitask
Comment Steve Jobs succeeded in surprising no one. The Apple CEO took to a San Francisco stage Wednesday morning to announce Apple's latest effort to change the face of mobile computing, and even the device's name was no surprise. The Reg first dubbed Apple's impending tablet the "iPad" last October.
Essentially a beefed-up iPod touch with optional 3G connectivity, the iPad's basics were also no surprise: a just-under-10-inch capacitive multi-touch display; a focus on ebooks, videos, web-browsing, photos, and music; new multi-touch versions of Apple's iWork productivity apps ($9.99 each for Pages, Numbers, and Keynote); linkage with Apple's app-glutted (140,000 and counting) App Store and the company's new iBookstore; and a custom Apple chip at its core - what Cupertino refers to as the A4, a system-on-a-chip running at 1GHz and presumably developed by the PA Semi team that Apple acquired back in April 2008.
What was surprising was what wasn't mentioned either during the event or on the iPad's tech specs web page: multitasking, for one. Unlike Palm's webOS or Google's Android, the iPad's operating system remains a single-tasker - that is, when running third-party apps, since Apple reserves the benefits of multitasking for its own apps, such as iTunes.
Also missing in action is any sort of a camera, either still or video. Of course, using a 240-by-180mm device as a point-and-shoot would be rather ludicrous, but those who had hoped that the iPad would include a front-mounted video camera for video-enhanced communication were disappointed - especially considering that the iPad does include built-in speakers and a microphone.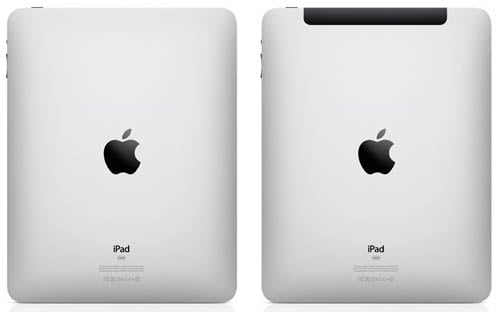 You'll be able to tell an iPad with 3G by its antenna cover (right)
Also not explained during the event or in Apple's promo materials are details about how the iPad's relationship with wireless carriers will blend with those fanbois who already own iPhones. Will the iPad be considered a separate device requiring a completely separate data plan? Our prediction: "Yup."
And although Apple says that the iPad "lets you see web pages as they were meant to be seen," that glowing assessment appears to be true - as it currently is for the iPhone - only for web pages that don't require Java, Adobe Flash, or other things that run interpreted code.
According to Apple, the iPad syncs with Apple's iTunes software using the same 30-pin dock connector as does the iPhone and iPod. However, it remains unclear whether third-part accessories designed for those handhelds will work with the iPad.
It also struck The Reg as odd that 3G connectivity is a $130 option. After all, as Steve Jobs said during his presentation, "Apple is a mobile devices company. This is what we do." The mobile web without go-anywhere mobility seems, well, not all that mobile. After all, 3G iPads support 7.2Mbps HSDPA networks, which - even though only a theoretical throughput - are snappy enought to support the iPad's capabilities.
Perhaps Jobs & Co wanted to hit that magic, headline-grabbing and Kindle-wounding $499 entry-level price. And perhaps AT&T execs got down on their already bruised knees and begged Jobs not to further burden their suffering networks. Note, also, that the 3G-equipped iPads will be released a month after the 3Gless models. Was that to give AT&T a bit of a time cushion to beef up its struggling 3G infrastructure?
And speaking of Amazon's Kindle, Apple clearly is in a gauntlet-throwing mood when it comes to ebooks. But putting aside the epaper-versus-backlit display debate, it's difficult to compare the iPad and the Kindle. The Kindle, for example, can download books from (sorta) anywhere at anytime over Sprint's wireless Whispernet service. To accomplish the same degree of convenience, an iPad owner will not only have to pony up the extra $130 for 3G connectivity, but also pay AT&T $14.99 for 250MB a month or $29.99 for an unlimited data plan.
That said, however, the Kindle is merely a monochrome reader for ebooks (and enewspapers and emagazines and blogs), while the colorful, oleophobic, LED-backlit, 1024-by-768 iPad includes a range of entertainment, creative, and productivity software, plus access to those aforementioned 140,000 iPhone apps. If you're already an iPhone or iPod touch owner, by the way, the iPad will also run all the apps you've purchased for those two handhelds. Another bonus: when docked, the iPad can double as a full-color digital photo frame.
Interestingly, at the close of today's trading day, Amazon's stock was up marginally, and Apple's was down - also marginally. ®