Review Nokia's Symbian-driven N97 smart phone came out in the summer to rather mixed reviews, with most people praising its feature count, but finding it a bit of a pain to use. Now comes the N97 Mini, a little (but not a lot) smaller than the original N97, and with most of its feature count intact, including its 5Mp camera, HSDPA 3G, Wi-Fi and A-GPS, though it now has a smaller screen, as well as reduced memory and battery life.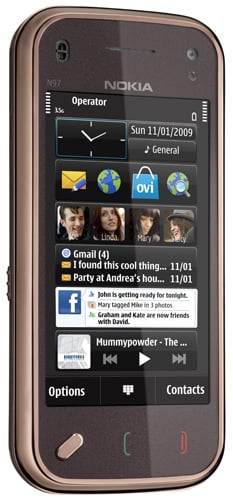 Nokia's N97 Mini: supports the new free Ovi satnav
The original N97 measured 117 x 55 x 16mm and weighed 150g while the newbie cuts that down to 113 x 53 x 14mm and 138g. It's still a decent handful, but where the N97 felt bloated and heavy, the mini is comparatively sleek and tactile.
Above the touch screen is a 640 x 480 camera for video calls, while below it are touch-sensitive call start and stop buttons, plus a distinctive, offset, hard menu button. Around the sides are a volume rocker and camera shutter button, plus micro USB power/sync slot, and screen lock switch, with power button and 3.5mm headphone jack on top. At the back is the Carl Zeiss camera lens and dual LED flash, standing slightly proud of the rest of the casing.
The Qwerty keyboard snaps open rather brutishly and flips up on that same angled hinge we saw on the original. We like it, but we would have liked it more if you could adjust the angle. The N97's five-way navpad is replaced with some direction arrows, which is fine, and there's now room for the keys to spread out a little, making them easier to find under the thumbs.
The space key is still offset to the side though, which feels a bit strange, especially if you're left-handed. The rubberised plastic of the keys is nice and tactile but they don't offer much feedback, and we took to pressing them with our thumbnails to ensure we hit them.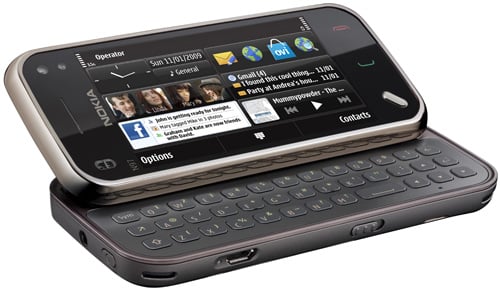 Unlike the N97, the mini uses arrow keys instead of a navpad
We were disappointed to see that resistive screen return. It wasn't much fun the first time round and it doesn't seem to have improved any either. It's a little smaller at 3.2in - dropped from 3.5in - but the main problem is its chronic lack of sensitivity, and it often seemed touch and go whether it could make a distinction between our brushed and presses. All in all, using it is more frustration than exhilaration.