South African Police reveal Apple tablet photos
11 varieties, MDMA support
---
The South African Police Service has released photos of the Apple tablet, well ahead of the Steve Jobs press conference scheduled for this morning in San Francisco.
According to a page on the SAPS website, the South African police have uncovered 11 different varieties of the tablet, spanning multiple colors and sizes. Apparently, the Apple tablet is available in red, pink, blue, purple, and grey, while sizes range from 6.08mm to 9.31mm.
The site also indicates that all Apple tablets include MDMA support, while some provide MDA and MDEA support as well.
The police photos are small, but they show both sides of the tablet. An Apple logo appears on the front side of each: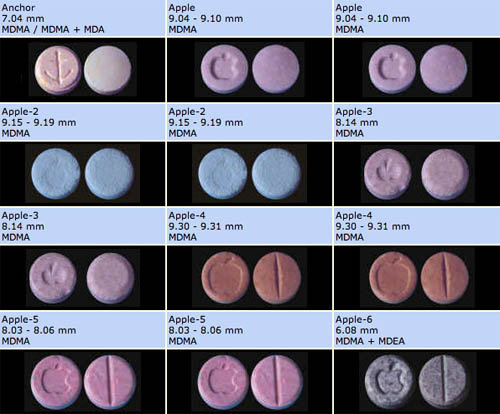 South African Police out the Apple tablet
At 10am Pacific time, at the Yerba Buena Center in San Francisco, Steve Jobs is set to unveil a "major new product." According to countless reports, this will be the long-rumored Apple tablet. The Reg will not be there. Steve Jobs doesn't like it that we laughed at the way he says Jaguar. ®
Bootnote
Hats off to Hugh for the tip.