NASA has confirmed that space shuttle Endeavour will blast off on 7 February on its STS-130 mission to the International Space Station, marking the last nighttime shuttle launch before the venerable fleet is retired.
Endeavour will depart Kennedy Space Center's launch pad 39A at 04:39 EST (09:39 GMT) carrying the US's Tranquility node and seven-windowed cupola (seen below being mated with Tranquility). On board will be commander George Zamka, pilot Terry Virts and mission specialists Robert Behnken, Kathryn Hire, Nicholas Patrick and Stephen Robinson.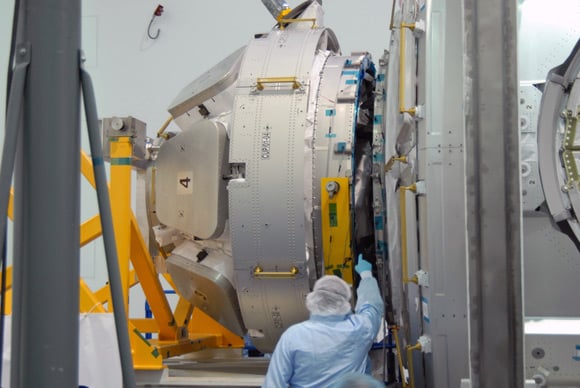 NASA's associate administrator for Space Operations, Bill Gerstenmaier, described the 13-day mission as "really complicated", and invited mere earthlings to peruse the press kits to "gain an appreciation of what will be going on at the station".
NASA has an STS-130 mission summary here (pdf) and details of the remaining four shuttle missions to the ISS here (pdf).
Discovery's STS-131 is slated to lift off on 18 March, followed by Atlantis on STS-132 on 14 May. Endeavour will be back in action on 29th July's STS-134, and the fleet will bow out on 16 September when Discovery blasts off on STS-133, "the 134th and final shuttle flight and the 36th shuttle mission to the station". ®
Similar topics